Say Goodbye To The A & The B: IAAF Championships Will Now Have One Qualifying Standard
Elite Distance News
Marathoners, 5-Year-Olds And Vigilantes
More Post-NYC Marathon News
Sad News, But A Great Way To Go Out: Oldest Women's Finisher At 2013 New York City Marathon, Joy Johnson, Dies Day After Race After Falling At Mile 20 Johnson refused to go the hospital, kept going, finished, and did the Today show the next day and then died in her sleep that night. She always wanted to die running, so she went out doing what she loved.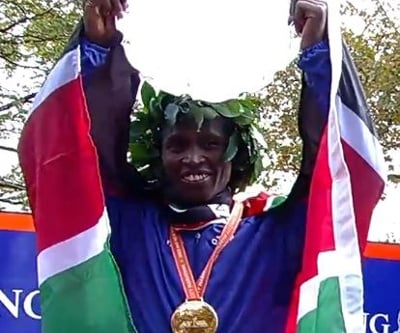 Men: LRC Ten Takeaways About The 2013 ING New York City Marathon Men's Race And Geoffrey Mutai We start by asking just how good was Mutai before telling you about the happiest second place finisher ever, tell you that Ryan Vail has a lot to be proud of, Meb Keflezighi impressed us immensely even though he finished 20th 23rd, who had the biggest breakthrough, and a reminder to Stanley Biwott that the marathon is more than 26 miles, not 23.
*LRC Meb Keflezighi On Finishing: "I'm doing (it) for Boston and for what happened and I'm doing it for America." Text/video.

Race Recap: Man Among Boys, Geoffrey Mutai Wins NYC Marathon RRW Geoffrey Mutai pulled way from Stanley Biwott in the 23rd mile and then cruised to an impressive victory. Tsegaye Kebede was second and picked up the $500,000 WMM crown. Ryan Vail was the top American. *Results *LRC Photo Gallery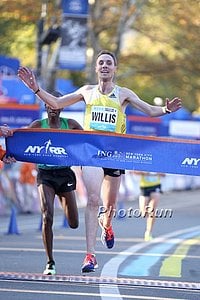 LRC Nick Willis Over Sam Chelanga, Aaron Braun link fixed
Nick Willis showed he's pretty good at 5k with a big kick the final 800m to get the win over Ben True's new training partner Sam Chelanga and Aaron Braun. Recap, results, post-race video.
LRC Chris Solinsky's Still Got The Fire After His 14th Place Finish: "It's Embarrassing" ... "It Was Really Bad" ... "A Shit Performance" Video and text.
*Discuss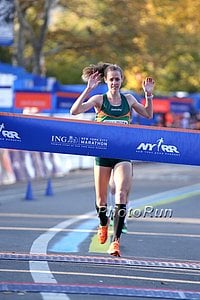 LRC Molly Huddle Over Emily Infeld & Shalane Flanagan updated Molly Huddle got the best of Jerry Schumacher-coached athletes Emily Infeld and Shalane Flanagan as she won in course record time. Recap, results, post-race video.
*Discuss
Week That Was
LRC Week That Was 11/11/13: Running To Drink, The Richie Incognito Rules For Track And Field, And Olympic Gold At What Cost? This wasn't your traditional week on LetsRun.com: The World Indoor Champs may be coming to the USA, beer could actually be a good recovery drink, a 5-year-old runs a half marathon, and an LRC post got liked 10,000+ times on Facebook. We've got it all covered in our week in review.
Doping News: Jamaica, Kenya And More
What Is The Best Way To Breathe While Running? This doctor says that synchronizing body movement with breathing patterns can lead to better performance.
Good Read: A Season Inside Oklahoma State XC Part 3: "Doubt Comes to Stillwater after the Big 12 Championships" The #3-ranked Cowboys have won three of the last four NCAA titles, but getting a fourth will depend on the performance of their 5th man.
Study Says That A Moderate Amount Of Beer After Exercise Doesn't Adversely Affect An Athlete's Recovery Sorry, college kids, moderate means 1 or 2 drinks.
US Weekend Results: Alan Webb Is Back!?! And HS XC Action
Wow: Tom Cruise Compares Acting To Olympic Training "A sprinter for the Olympics, they only have to run two races a day. When I'm shooting, I could potentially have to run 30, 40 races a day, day after day."
Distance News
Women: LRC 6 Takeaways From The Fascinating Women's Race Big props to runner-up Buzunesh Deba, an awful day for the Americans and - most importantly - did a mysterious man on a bicycle save the day for Priscah Jeptoo, who is the greatest women's distance runner in the world right now?

Race Recap Priscah Jeptoo Comes From Behind For $625,000 Victory RRW 14 miles into the race, Priscah Jeptoo was 3:24 behind 2011 runner-up Buzunesh Deba. Jeptoo had to catch her if she wanted to win $600,000. She did it in impressive fashion as Deba held on for second. Top results. Adriana Nelson was the top American. *Results
.US Road Champs Are Sunday
IAAF Q&A With Brittney Reese, Who Says She Relaxes On Her Time Off Playing Video Games Reese: "I love to play Grand Theft Auto and NBA2K14."
Olympic / World Jr. News
Upcoming
Crazy Olympic Money News
Friday's New York City Marathon On The Run Video Show (Meb, Mutai, Alisha Williams, Jason Hartmann, David Epstein, Wejo). More Episodes Here.
Don't Think You Can Run 2:03 Clean? Geoffrey Mutai Wants To Talk To You (More Here).
Episode #2 On The Run With Frank Shorter, Bill Rodgers, Joan Benoit, Stephen Kiprotich, More (Larger Here). Each Night At 8pm Eastern Here.
Random Stuff: Harry Potter Is Seb Coe