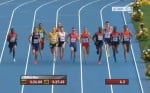 LRC recap and analysis of the men's 1500m final won by Asbel Kiprop with Matt Centrowitz silver.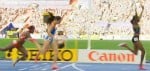 LRC recap and analysis of women's 800m final won by Eunice Sum.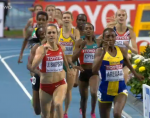 Two years ago, Jenny Simpson left the IAAF World Championships in Daegu with a gold medal in the women's 1500. This year, after the women's 1500 final was run tonight in Luzhniki Stadium, Simpson is leaving with a silver medal, but she'll leave with these championships with perhaps something more important - total respect from US distance aficionados. Jenny Simpson in our book is now the greatest US women's 1500 runner in history.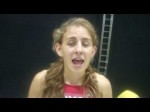 The future of the men's steeplechase may one day very soon belong to Kenya's 18-year old phenom Conseslus Kipruto, the 2011 World Youth and 2012 World Junior champ who had won all six of his steeples this year before tonight, but the present still very much belongs to Kenya's Ezekiel Kemboi.
Audio and Video interviews with the top performers in the 1500m final.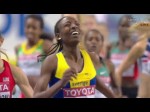 Video of the women's 1500m final. USA Visitors only.
Video highlights of the men's steeplechase final. USA Visitors only.
We haven't heard this in the mixed zone before: "I thought you were going to slap my butt. I was like 'girl I didn't think we knew each other like that.'"
After a night off, the 2013 IAAF World Championships resumed Thursday morning. The first event on the track was the opening round of the 800 which produced only one significant elimination as the field was narrowed down from 31 to 16.
Reese Hoffa with some very interesting comments in the mixed zone.
Daily Schedule
| Race | EST | +04 |
| --- | --- | --- |
| 200 Meters Quarterfinals | | |
| 200 Meters Semifinals | | |
| 800 Meters Quarterfinals | | |
| 1500 Meters Final | | |
| Final | | |
| Final | | |
| 3,000 Meter Steeplechase Final | | |
Outside Letsrun
Usain Bolt led Jamaica to a 4×100 win and Teddy Tamgho became the 3rd man over 18 meters in the triple mump.
Excellent, excellent read. Canova coached world record holder Saif  Shaheen.
The article is on the whole day's action, but Cain gets the most attention. It's got a quote from former phenom and convicted doper Mary Slaney.
"He (Kemboi) is my best friend off the track but my worst enemy on it" - Mekhissi
Mekhissi and Kemboi clowned around on the medal stand while Kipruto wanted no part of it. "It's good to be king." -Kemboi said.
"I've said it many times already, I was hungry. Probably the hungriest person in the field" Reuters.
"He didn't think I had it. I still remember that clearly. People have always got their opinion. At the time he just didn't see any Africans getting beat. I was disappointed to hear that because he was someone I saw as a role model …"