2019 Houston Marathon and Half Marathon

Houston, TX
January 20, 2019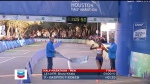 Kitata won a 3-way sprint in the men's race while Kosgei showed she's a real threat to win the greatest women's marathon in history in London by running the fastest time ever in the Western Hemisphere while Sisson stamped herself as a 2020 Olympic marathon contender.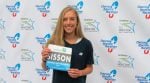 Emily Sisson had mixed feelings about just missing the AR. "I think I was a little disappointed at first because I was so close to Molly's record.  I think I made some mistakes that cost me a bit, but tomorrow I'll be pretty happy with it."
You can watch both races live for free from the comfort of your coach. Details below.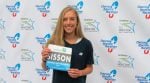 Sisson: "I'm going to take that as a compliment that (Molly) thinks I'm fit and ready to run fast."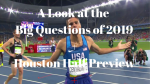 The LRC crew unveils its first podcast of 2019 with a new format.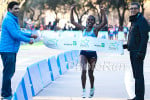 Houston is always one of the highlights of the winter for US fans and this year's races could be extra special as Olympic silver medallist Sally Kipyego races for the 1st time since declaring she'll represent the US moving forward and Kara Goucher races a marathon for the 1st time as a 40-year old. The problem is the weather forecast doesn't look good but what does look good is the international fields in both the men's and women's halves as they are loaded with talent.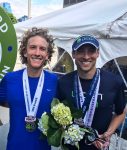 Stinson and Ritzenhein have a relationship that stretches back a decade. They try not to worry about the fact that, should all go well, they'll be racing each other for an Olympic berth next year.