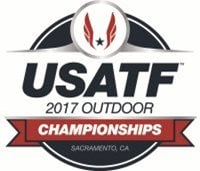 Sacramento, CA
June 22, 2017 to June 25, 2017
Outside Letsrun
As she did last year in Rio, Bartoletta beat out Brittney Reese for the top of the podium.
Raven Saunders got an upset win in the 400 over Olympic champ Michelle Carter.
Alex Young (hammer), Kara Winger (javelin), Gia Lewis-Smallwood (discus), and Keturah Orji (triple jump) were your Thursday field event winners. *Day 1 USATF Athlete Quotes
Brown Trafton reveals even after winning Olympic gold, she didn't make enough from track to support herself.
Photos
Race Results
Analysis
Event Recaps
Interviews
Event Previews
In The Past
Related Events