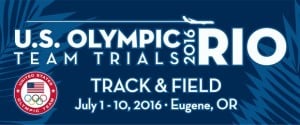 Eugene, OR
July 1, 2016 to July 10, 2016
The 2016 US Outdoor Track and Field championships are officially known as the 2016 Olympic Team Trials – Track and Field. *Qualifying Standards *Meet Website *Schedule *Tickets
Outside Letsrun
Rick Suhr argues that the Trials "just allows our best athletes to trip up." We love the Trials and so do all the fans and most of the athletes. But if you're the best in the World in your event, then of course you rather a free pass to the Olympics.
Goucher said she felt great after the marathon Trials, but then a month later started not recovering and was "pushing too hard".
"We have to be top three that day, that day only or we don't go. We're stuck with it and we'll make the most of it. ... In our American system you have to peak twice, a month before the Games (at Trials) and again at the Games. That's very difficult."
However, he says he plans on also running the 1500 even if he makes the team in the 800.
They are all sprints and he thinks a WR could go down in one of them.
"Eugene is one of the best places to train, but I think at times it does become a fish bowl … It's hard to find a place in Eugene where the Trials isn't the focus."
A great read about Gags the coach and person, with humorous stories and insights from many including Boylan-Pett, Kyle Merber and Vin Lananna.