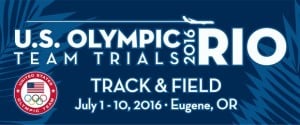 Eugene, OR
July 1, 2016 to July 10, 2016
The 2016 US Outdoor Track and Field championships are officially known as the 2016 Olympic Team Trials – Track and Field. *Qualifying Standards *Meet Website *Schedule *Tickets
Outside Letsrun
4 team members are representing the USA for a 4th time - Allyson Felix, Shalane Flanagan, Meb Keflezighi and Chaunté Lowe.
Higginson was 4th in 2012, 2nd in 2013 and 2014, but came up short this year.
The difference between 3rd and 4th can be the difference in achieving a lifetime's dream and tens of thousands of dollars. Hear how some of the USA's most prominent 4th placers handled it.
After running one of her best races "in a long, long time" at Stanford she was dreaming of Rio, but a string of injuries saw her running through pain and finishing last in her heat in Eugene. Vessey's coach Greg Brock: "When she raced at Stanford, it was one of the best races she's done in a long, long time. A little after that, her body started coming up short. It was its way of saying, 'You can't keep doing this.' She's put in 20 years on the track. ... She said, 'I didn't want to go out like this.' And I said, 'You know Maggie, almost every athlete goes out like this. The only way to truly know when you're done is when it happens. You have to add it all up, the return you get vs. the pain and the frustration.'"
Eccleston has put a really positive spin on the heartbreak of 4th place as that performance lead to her taking her first international flight, competing in the Diamond League and running two 1500 PRs in 5-days.