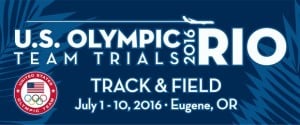 Eugene, OR
July 1, 2016 to July 10, 2016
The 2016 US Outdoor Track and Field championships are officially known as the 2016 Olympic Team Trials – Track and Field. *Qualifying Standards *Meet Website *Schedule *Tickets
Outside Letsrun
Donn Cabral also wasn't happy with the way he ran.
"You literally couldn't hold on to the discus. … You can't throw in conditions like that."
One is TJer Andrea Geubelle.
Hill says he isn't taking anything for granted and is preparing as if he isn't making the team.
Merritt thought he finished 2nd, less than a year from a kidney transplant, but the photo showed him to be 4th.