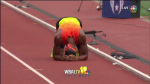 What if a bunch of crazy stuff didn't happen at the Trials...
Allyson Felix's quest for history is over before it really even began. Felix wasn't the only one to have a bad day as Johnn Dutch also failed to make it Rio. The news wasn't all bad as in the women's 400 hurdles HSer Sydney McLalughlin made Team USA and Dalilah Muhammad set a new US championship record.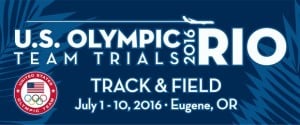 Eugene, OR
July 1, 2016 to July 10, 2016
The 2016 US Outdoor Track and Field championships are officially known as the 2016 Olympic Team Trials – Track and Field. *Qualifying Standards *Meet Website *Schedule *Tickets
Outside Letsrun
One is TJer Andrea Geubelle.
Sam (javelin) and Ryan (shot put) are already qualified.
Christina Epps got the standard on her second to last jump, meaning that the US will send a full TJ team for the first time since 1996.
"We have to be top three that day, that day only or we don't go. We're stuck with it and we'll make the most of it. ... In our American system you have to peak twice, a month before the Games (at Trials) and again at the Games. That's very difficult."
Rick Suhr argues that the Trials "just allows our best athletes to trip up." We love the Trials and so do all the fans and most of the athletes. But if you're the best in the World in your event, then of course you rather a free pass to the Olympics.
On The Boards
Navigate
Photos
Race Results
Analysis
Event Recaps
Interviews
Event Previews
In The Past
Related Events