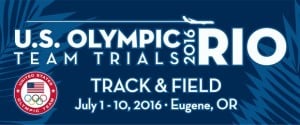 Eugene, OR
July 1, 2016 to July 10, 2016
The 2016 US Outdoor Track and Field championships are officially known as the 2016 Olympic Team Trials – Track and Field. *Qualifying Standards *Meet Website *Schedule *Tickets
Outside Letsrun
Will Andrews finally forgo his patented come from way back strategy?
Wheating doesn't have the 3:36.20 Olympic standard and was missing the Trials 3:38.00 standard, but got in after athlete scratches. Other 1500 developments were Clayton Murphy scratched and 800 4th placer Craig Engels and UO's Matthew Maton got in. Wheating: "I've got this weird confidence now. I'm not looking for Olympics and what's going to happen this summer. I just want to win trials. I think it'd be so cool to do that on my home track in front of family and fans."
"Eugene is one of the best places to train, but I think at times it does become a fish bowl … It's hard to find a place in Eugene where the Trials isn't the focus."
However, he says he plans on also running the 1500 even if he makes the team in the 800.
On The Boards
Navigate
Photos
Race Results
Analysis
Event Recaps
Interviews
Event Previews
In The Past
Related Events