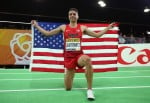 Matt Centrowitz ended a perfect indoor season with gold in the 1500 before the hometown fans.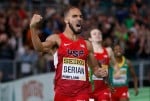 Unsponsored Boris Berian got the gold and Erik Sowinski the bronze.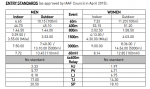 A number of Americans have the standard in the 1,500 and 3,000, but only two men (Boris Berian and Donavan Brazier) and three women (Ajee Wilson, Treniere Moser and Charlene Lipsey) have it in the 800.
Good news track fans. Vashti Cunningham is competing.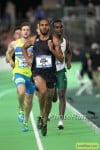 Berian's in great shape and two-time defending champ Mo Aman of Ethiopia is not. In a wide-open race, does Berian have the strength to run two good 800s in two days?
Sifan Hassan and Dawit Seyaum, who went 3-4 at Worlds last year, are the favorites, but Martinez has been in good form this year and has a real shot at a medal.
Defar has won this race four times but has run just one track race since 2013; Dibaba is the defending champ/world record holder. We can't wait for this one.
The U.S. has two medal contenders in Centrowitz and Robby Andrews but competition will be tough with half of last year's outdoor World Championship final entered plus defending champ Ayanleh Souleiman.
Chanelle Price shocked the world with her gold medal two years ago in Sopot. Can Wilson come through as the favorite on home soil in Portland?

Portland, OR
March 17, 2016 to March 20, 2016
Outside Letsrun
The 100 ton structure will soon be cut into 1400 pieces and sold to Iowa for $2.6 million.
Salazar explains why he wants his athletes to do an all-out peak twice a year rather than train through indoor with just one peak in outdoor.
Jager: "It might be one of my only chances to run at a global championships in the states and that in itself is cool. Having lived the last seven and a half years in Portland would make it that much more special. To step on the starting line and hear the announcer say my name and that I'm from Portland and have that good hometown support, it would be cooler than anything."
Farah says he's skipping Portland 2016 to focus on the Olympics and Glasgow Indoor Grand Prix in February would be his only indoor meet.
On The Boards
Navigate
In The Past
Related Events