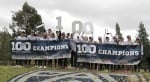 We also take a look at the Penn State women's upset at Big 10s, Thomas Curtin taking down Justyn Knight at ACCs and wonder whether the Foot Locker women's curse may come to an end this month?

United States
October 30, 2015 to October 31, 2015
*USTCCCA Website (Coaches association)
Outside Letsrun
"We knew in both races there were formidable opponents, teams that would be better than they had been all season long. We knew that we had a chance to win both, probably a slightly better chance on the men's side, but we definitely aspired to do the sweep and it happened."
"... I learned how much I missed racing and how much I enjoyed being in every race and being with my teammates."
They were hurt as two-time champ Malachy Schrobilgen dropped out with injury.
Erin Finn: "We talked about it today on our cool-down. It's okay to be disappointed, but we can't let ourselves be devastated. We have to get angry and let this light a fire under us and just move on. What's done is done but we can make the future better now and that has to be our focus."
Curtin outkicked Syracuse's Justyn Knight to win ACC Champs while Scott became the first three-time SEC XC champ.