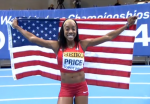 Chanelle Price took it out really hard and hung on to win gold at 800 at the World Indoors. Wire-to-wire, pr, world-leading time for the win. Impressive. Recap, analysis, post-race video. *Post race interview with World Champion Chanelle Price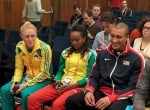 (updated with videos) The customary pre-meet press conference was quite interesting. G. Dibaba, Sally Pearson and Ashton Eaton all revealed whether they're going for the $50,000 world record bonus this weekend. Speaking of Pearson, 8-time global hurdles gold medalist Allen Johnson said Pearson is "the best - not one of the best" and "probably the best hurdler I've ever seen in person." Bruny Surin said he thought a Brit - yes, a Brit (James Dasaolu) - would have broken the 60m WR had he not been injured. All of that plus Pentathlon world record holder Nataliya Dobrynska of the Ukraine talks politics, cross-country as a winter Olympic sport and does the mayor of Sopot read LetsRun.com?
Event Schedule
| Race | Date | CST | CET |
| --- | --- | --- | --- |
| Final | 01/01/70 | | |
Outside Letsrun
She won gold at World Indoors, but says she's been doing the same training she does for the 100 focusing on outdoors.
The men's 4x400 ran 3:02.13 to set an official WR, although it's not the fastest time ever run as a US team that included Jeremy Wariner ran 3:01.96 in 2006, but it wasn't ratified as there wasn't drug testing. The women's 4x400 also won gold with an AR of 3:24.83 and Omo Osagha won gold in the 60H. Overall, USA won 12 medals (8 gold) at these championships.
The World Indoor Champs in Poland went out with a bang. Recap of all the final day action.
A Pr in the final got Nia Ali the upset win over Sally Pearson.
Team USA's Nia Ali  pulled a huge upset in the women's 60mh over Sally Pearson, but there were also stunned all over the place.
Photos
Race Results
Analysis
Event Recaps
Interviews
Event Previews
Related Events