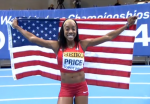 Chanelle Price took it out really hard and hung on to win gold at 800 at the World Indoors. Wire-to-wire, pr, world-leading time for the win. Impressive. Recap, analysis, post-race video. *Post race interview with World Champion Chanelle Price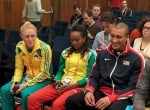 (updated with videos) The customary pre-meet press conference was quite interesting. G. Dibaba, Sally Pearson and Ashton Eaton all revealed whether they're going for the $50,000 world record bonus this weekend. Speaking of Pearson, 8-time global hurdles gold medalist Allen Johnson said Pearson is "the best - not one of the best" and "probably the best hurdler I've ever seen in person." Bruny Surin said he thought a Brit - yes, a Brit (James Dasaolu) - would have broken the 60m WR had he not been injured. All of that plus Pentathlon world record holder Nataliya Dobrynska of the Ukraine talks politics, cross-country as a winter Olympic sport and does the mayor of Sopot read LetsRun.com?
Event Schedule
| Race | Date | CST | CET |
| --- | --- | --- | --- |
| Final | 01/01/70 | | |
Outside Letsrun
He hopes to compete alongside his brother Thomas who was a finalist in Moscow.
The good news for Kilty is 72% of sprinters under 6.50 in 60 have broken 10.00. The bad news is his white.
Smith's father Calvin Smith Sr. is a former 100m WR holder.
Osaghae almost gave up on the indoor season to focus on outdoors as he was dealing with early season injuries.
Kilty's life has improved a lot as he's also had run-ins with the law in the past including 4-months ago paying a large fine for putting his fist through an estate agent's window.
Chambers tested positive 11-years ago and admitted and apologized for cheating. His former coach Stuart McMillan said, "In a world where the default setting for a doping positive is denial, Dwain did not only own up to his mistake, but he went out of his way to atone for it. It is a real shame that now, over a decade later, he is still unable to make the living in his sport that he deserves to – especially when I see so many others who are doing so – many of whom have never admitted guilt, and many of whom have never lifted a finger in reparation." Chambers finished 6th in the 60.
The men's 4x400 ran 3:02.13 to set an official WR, although it's not the fastest time ever run as a US team that included Jeremy Wariner ran 3:01.96 in 2006, but it wasn't ratified as there wasn't drug testing. The women's 4x400 also won gold with an AR of 3:24.83 and Omo Osagha won gold in the 60H. Overall, USA won 12 medals (8 gold) at these championships.
The World Indoor Champs in Poland went out with a bang. Recap of all the final day action.
Team USA's Nia Ali  pulled a huge upset in the women's 60mh over Sally Pearson, but there were also stunned all over the place.
On The Boards
Navigate
Photos
Race Results
Analysis
Event Recaps
Interviews
Event Previews
Related Events