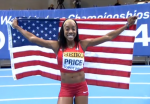 Chanelle Price took it out really hard and hung on to win gold at 800 at the World Indoors. Wire-to-wire, pr, world-leading time for the win. Impressive. Recap, analysis, post-race video. *Post race interview with World Champion Chanelle Price
Avery was contacted by UKA saying they wanted her on the team for World Indoors as she's the fastest Brit this season in the 3000 with an 8:56. However, then after she waited for what was supposed to be a simple confirmation, they came back and told her she could't be selected because she didn't send an email saying she wasn't racing the UK Trials. *Video Interview
The world is changing quickly and sometimes things are hard to comprehend. How can it be that silver medalists Nick Symmonds and Galen Rupp need near-miracles to medal at Worlds but Ajee' Wilson and Treniere Moser are expected to medal? Can Rupp or Symmonds really be ranked #9 but Treniere Moser #2? Yes, they can!
19-year-old teen phenom Ajee' Wilson of the USA has the top time in the world and teammate Chanelle Price is #2 in the world, but can an up-and-coming Brit Laura Muir steal the gold?
Abeba Aregawi enters the field with having run 7.43 seconds faster than anyone else in it. She's a lock for gold but the USA's Treniere Moser has a chance for silver that could have been Mary Cain's. Plus Turkey's Genze Bulut returns to the world stage; she was the Olympic silver medalist.
Genzebe Dibaba, Ms. World Record 2014, gets her chance to shine and Hellen Obiri of Kenya will try to challenge, and after that it's wide open. Can one of the two Americans sneak in there?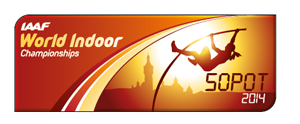 Sopot Poland
March 7, 2014 to March 9, 2014
Outside Letsrun
Kampf found out last minute she would be going in the 1500 when Mary Cain withdrew and tells about her crazy trip over to Poland.
He says he's been staying focused in Sopot and saving the local food/vodka sampling for after the meet.
From a powerhouse American team to a hungry Pearson and Eaton, there is a lot to pay attention to.
"My shape came out perfectly. I feel like it's the right time right now,"
We wouldn't go that far since only the winner and next 3 best times make it out of the 800 heats, but she is definitely one of the favorites.
M&W 60, heptathlon, w pole vault and men's 3k.
On The Boards
Navigate
Photos
Related Events