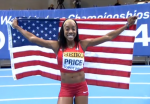 Chanelle Price took it out really hard and hung on to win gold at 800 at the World Indoors. Wire-to-wire, pr, world-leading time for the win. Impressive. Recap, analysis, post-race video. *Post race interview with World Champion Chanelle Price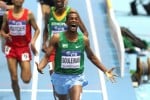 We tell you why Chanelle Price's gold medal was even rarer than you think, why running is definitely a young person's game, discuss what gets your DQed on the international level, ponder how Ashton Eaton isn't a cross-over star, look at the disappointing runs of Ajee' Wilson, Treniere Moser and Genze Bulut, and share with you two message board gems.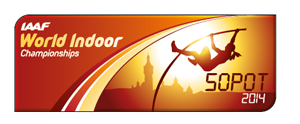 Sopot Poland
March 7, 2014 to March 9, 2014
Outside Letsrun
They might buy the portable track for a discounted price of $2.4 million, opposed to the $4 million it costs new.
He hopes to compete alongside his brother Thomas who was a finalist in Moscow.
The good news for Kilty is 72% of sprinters under 6.50 in 60 have broken 10.00. The bad news is his white.
We wonder how much of that traffic came to them from LRC?
"Let's say you dropped into Sunday's final day of the 2014 world indoor track and field championships. Further, you were a stranger to the sport, maybe kinda-sorta checking it out, a local from here in Sopot or Gdansk. The program started at 2:50 in the afternoon. It wrapped up a little past 7 in the evening. That's just over four hours. In those four-plus hours you saw — deep breath now — 14 events, two semifinals and 12 finals, as well as 17 medal ceremonies. Essentially, you went to the circus. All that was missing was lions, tigers and bears. This has to change."
Smith's father Calvin Smith Sr. is a former 100m WR holder.
She won gold at World Indoors, but says she's been doing the same training she does for the 100 focusing on outdoors.
Osaghae almost gave up on the indoor season to focus on outdoors as he was dealing with early season injuries.
On The Boards
Navigate
Related Events