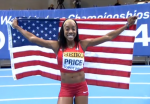 Chanelle Price took it out really hard and hung on to win gold at 800 at the World Indoors. Wire-to-wire, pr, world-leading time for the win. Impressive. Recap, analysis, post-race video. *Post race interview with World Champion Chanelle Price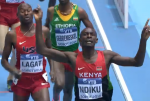 Final recap with post-race analysis/video.  Bernard Lagat at age 39 had a tremendous kick on Sunday, but he met his match in a younger version of himself as Caleb Ndiku was too good the final lap. Galen Rupp was a very respectable 4th.
On The Boards: Official 3k thread - Race of the championships
*What was the message on Ndiku's shirt?
*Daddy Still Can Kick. 39 Year Old Lagat Over Rupp
*I finally understood what Rupp is lacking
*Galen Rupp is the real winner - ran in lane 2/3 the whole time!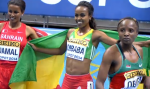 Genzebe Dibaba dominated to remain undefeated in 2014 (like Mary Cain), defending champ Hellen Obiri got silver, and the Americans weren't factor.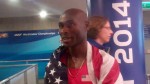 Video interviews from the mixed zone.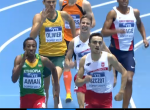 Mo Aman did what champions do - find a way to win. The best 800m runner currently on the planet came from behind to pass Adam Kszczot on the final lap before the raucous packed Polish crowd to get gold. Poland was silver and bronze for a little while until Marcin Lewandowski was DQed and Andrew Osagie upgraded to bronze.
LRC video with the Americans after the 2014 Worlds.
Daily Schedule
| Race | CST | CET |
| --- | --- | --- |
| 3000 Meters Final | | |
| 800 Meters Final | | |
| 3000 Meters Final | | |
| 800 Meters Final | | |
Outside Letsrun
Chambers tested positive 11-years ago and admitted and apologized for cheating. His former coach Stuart McMillan said, "In a world where the default setting for a doping positive is denial, Dwain did not only own up to his mistake, but he went out of his way to atone for it. It is a real shame that now, over a decade later, he is still unable to make the living in his sport that he deserves to – especially when I see so many others who are doing so – many of whom have never admitted guilt, and many of whom have never lifted a finger in reparation." Chambers finished 6th in the 60.
They both got 2.00m and tied at 2.02 and since they had equal misses they tied. They had an option for a jump off, but both declined.
The men's 4x400 ran 3:02.13 to set an official WR, although it's not the fastest time ever run as a US team that included Jeremy Wariner ran 3:01.96 in 2006, but it wasn't ratified as there wasn't drug testing. The women's 4x400 also won gold with an AR of 3:24.83 and Omo Osagha won gold in the 60H. Overall, USA won 12 medals (8 gold) at these championships.
The World Indoor Champs in Poland went out with a bang. Recap of all the final day action.
On The Boards
Navigate
Related Events