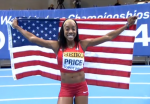 Chanelle Price took it out really hard and hung on to win gold at 800 at the World Indoors. Wire-to-wire, pr, world-leading time for the win. Impressive. Recap, analysis, post-race video. *Post race interview with World Champion Chanelle Price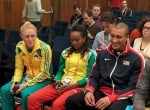 (updated with videos) The customary pre-meet press conference was quite interesting. G. Dibaba, Sally Pearson and Ashton Eaton all revealed whether they're going for the $50,000 world record bonus this weekend. Speaking of Pearson, 8-time global hurdles gold medalist Allen Johnson said Pearson is "the best - not one of the best" and "probably the best hurdler I've ever seen in person." Bruny Surin said he thought a Brit - yes, a Brit (James Dasaolu) - would have broken the 60m WR had he not been injured. All of that plus Pentathlon world record holder Nataliya Dobrynska of the Ukraine talks politics, cross-country as a winter Olympic sport and does the mayor of Sopot read LetsRun.com?
Event Schedule
| Race | Date | CST | CET |
| --- | --- | --- | --- |
| Final | 01/01/70 | | |
Outside Letsrun
They both got 2.00m and tied at 2.02 and since they had equal misses they tied. They had an option for a jump off, but both declined.
The World Indoor Champs in Poland went out with a bang. Recap of all the final day action.
Team USA's Nia Ali  pulled a huge upset in the women's 60mh over Sally Pearson, but there were also stunned all over the place.
IAAF recap. No jump off here.
Photos
Race Results
Analysis
Event Recaps
Interviews
Event Previews
Related Events