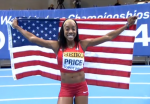 Chanelle Price took it out really hard and hung on to win gold at 800 at the World Indoors. Wire-to-wire, pr, world-leading time for the win. Impressive. Recap, analysis, post-race video. *Post race interview with World Champion Chanelle Price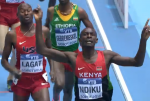 Final recap with post-race analysis/video.  Bernard Lagat at age 39 had a tremendous kick on Sunday, but he met his match in a younger version of himself as Caleb Ndiku was too good the final lap. Galen Rupp was a very respectable 4th.
On The Boards: Official 3k thread - Race of the championships
*What was the message on Ndiku's shirt?
*Daddy Still Can Kick. 39 Year Old Lagat Over Rupp
*I finally understood what Rupp is lacking
*Galen Rupp is the real winner - ran in lane 2/3 the whole time!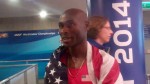 Video interviews from the mixed zone.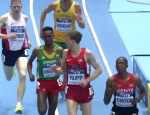 All the favorites advanced, but the 3,000 qualifying was very interesting. Caleb Ndiku wore a winter cap, Dejen Gebremeskel went from 2nd to last to 2nd, Galen Rupp ran composed, and Bernard Lagat did what you expected. Recap and a look ahead to the final.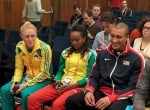 (updated with videos) The customary pre-meet press conference was quite interesting. G. Dibaba, Sally Pearson and Ashton Eaton all revealed whether they're going for the $50,000 world record bonus this weekend. Speaking of Pearson, 8-time global hurdles gold medalist Allen Johnson said Pearson is "the best - not one of the best" and "probably the best hurdler I've ever seen in person." Bruny Surin said he thought a Brit - yes, a Brit (James Dasaolu) - would have broken the 60m WR had he not been injured. All of that plus Pentathlon world record holder Nataliya Dobrynska of the Ukraine talks politics, cross-country as a winter Olympic sport and does the mayor of Sopot read LetsRun.com?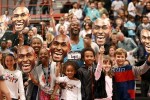 Set your alarm and be by your TV for Saturday's 10:10 am eastern 3,000m final as it will be a tremendous one. Bernard Lagat goes for World indoor title #3 in a row, but he'll have his hands full with Ethiopian 5,000m silver medalists Hagos Gebrhiwet and Dejen Gebremeskel, not to mention Calib Ndiku, who trounced Lagat earlier this year, and fierce American rival Galen Rupp.
Event Schedule
| Race | Date | CST | CET |
| --- | --- | --- | --- |
| Heats | 03/07/14 | | |
| Final | 03/09/14 | | |
Outside Letsrun
"My shape came out perfectly. I feel like it's the right time right now,"
The SA squad also includes newly minted 3000 national record holder Elroy Gelant (7:39.55) and long juper Zarck Visser who did 8.28m last week and supposedly 8.55m in practice.
On The Boards
Navigate
Photos
Race Results
Analysis
Event Recaps
Interviews
Event Previews
Related Events