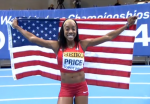 Chanelle Price took it out really hard and hung on to win gold at 800 at the World Indoors. Wire-to-wire, pr, world-leading time for the win. Impressive. Recap, analysis, post-race video. *Post race interview with World Champion Chanelle Price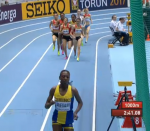 Abeba Aregawi went out and crushed the field. There have now been 3 DQs after the race. Moving Canada's Nicole Sifuentes to bronze and Treniere Moser to 4th (and back to 5th after an appeal).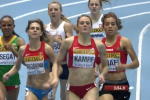 US mid-d running had a tough morning but had a fantastic evening as Moser and Kampf were both FANTASTIC.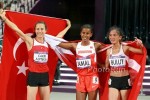 Abeba Aregawi enters the field with having run 7.43 seconds faster than anyone else in it. She's a lock for gold but the USA's Treniere Moser has a chance for silver that could have been Mary Cain's. Plus Turkey's Genze Bulut returns to the world stage; she was the Olympic silver medalist.
Event Schedule
| Race | Date | CST | CET |
| --- | --- | --- | --- |
| Final | 03/08/14 | | |
| Final | 03/08/14 | | |
Outside Letsrun
Only in track does it take over an hour to determine DQs.
Kampf found out last minute she would be going in the 1500 when Mary Cain withdrew and tells about her crazy trip over to Poland.
On The Boards
Navigate
Photos
Race Results
Analysis
Event Recaps
Interviews
Event Previews
Related Events