Houston Half and Full Are This Weekend

LRC Molly Huddle, Sara Hall, Jared Ward & More: Olympic Trials Preview on Tap at 2020 Houston Half Marathon Each year, Houston always gets road racing in America off to a good start and with the US Olympic Marathon Trials just six weeks away, that's truer than ever this year. *MB: Official 2020 Houston Discussion Thread
USA XC Is Also This Weekend: MB: USA XC champs are this weekend – Do you recognize any of these entrants? One will be a natl. champ.
Nike Vaporflys Getting Banned?
Eliud Kipchoge Responds: "It's the person who is running, and not the shoes." Kipchoge made the analogy to Formula One and said it's Lewis Hamilton who does the driving, not Pirelli Tyres. However, we're not sure Formula One is the best "sport" to compare as just about every aspect of the car has regulations that need to be strictly followed.
Reports Coming Out That World Athletics Is Going To Ban The Nike Vaporfly The issue being discussed is the foam and carbon-fiber sole which acts like a spring; new rules would limit sole thickness and the use of carbon plates. The ban would also apply to Nike's new running spikes which were worn by Laura Muir to set the British indoor mile record last year (4:18.75). There's no decision on whether records set before the shoes were banned (like Brigid Kosgei's 2:14:04) will be allowed to stand.
*The Times: "Nike's Record Breaking RUnning Shoe To Be Banned" (article behind paywall)
*MB: Reports: Vaporfly to be banned
The London Marathon Men's Field Is Out
Ethiopian Duo Mosinet Geremew And Mule Wasihun Will Return To Challenge Eliud Kipchoge Again At The 2020 London Marathon At last year's London, Gerewmew ran the fifth fastest time in history (2:02:55) to finish just 18-seconds behind Kipchoge. Washihun was third in 2:03:16. The field also includes last year's fourth placer Shura Kitata, Tamirat Tola (2:04:06) and another four sub-2:06 men.
*MB: London elite – Bekele is not there
Diack Trial Delayed
Lamine Diack's Trial Delayed Until June After New Documents Were Submitted To The Paris Court Concerning Testimony That His Son Papa Massata Diack Gave In Senegal World Athletics (the IAAF) is reportedly seeking 41.2m euros (£35.3m) in compensation from the six defendants (Diack, his son and other ex-IAAF officials). Diack asked the court to be allowed to return to Senegal to see his family, but his request was denied (not surprising since Senegal has refused to extradite the younger Diack). *2nd article
Another Day, Another Record Goes Down In Valencia – But This Runner Wasn't Wearing The Vaporflys
Rhonex Kipruto Smashes The 10k World Record With 26:24 In Valencia The world 10,000 bronze medalist took 16 seconds off Joshua Cheptegei's record set just six weeks ago. He also set the 5k WR en route with 13:18 (his second 5k was even faster with 13:06, but won't be record eligible). On the women's side, Sheila Chepkirui was just 3 seconds off the WR with 29:46. Rosemary Wanjiru and Norah Jeruto were a close 2-3 both timed at 29:51.
*Switzerland's Julien Wanders Breaks His Own European 10k Record With 27:13 Third-Place Finish
*MB: Rhonex Kipruto destroys 10k WR – not in vaporflys!
*MB: Adidas shoes WR!!!!
*MB: Are the new Addidas Adizero Pro better than Vaporfly?
*MB: Julien Wanders new ER record –27:13!!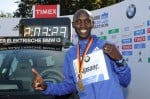 If the charges hold, he will be the most prominent men's marathoner to break anti-doping rules. *Discuss

LRC The 10 Most Popular Running Shoes On LetsRun.com Before we do our final call of shoe reviews in 2019, we decided to take a look at what shoes are the most popluar on LetsRun. Four shoe lines dominant, the Nike Pegasus, the Brooks Ghost, the HOKA Clifton and the Saucony Kinvara. These four might be a great place to start when looking for a new pair of shoes.
Want a Better Running Shoe?
Beta Better Running Shoe Site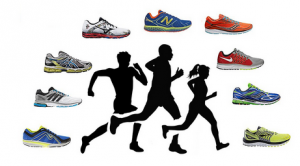 It's Time to Change How We Find Running Shoes