Day 3 at USAs
SI: Leo Manzano Will Watch 1,500 Final As A Retiree Manzano has retired according to Sports Illustrated's Chris Chavez.
*MB: Leo Manzano has retired – Official Leo Manzano appreciation thread

LRC Shelby Houlihan Repeats Over Jenny Simpson, Hillary Bor Gets USA Title #1 Shelby Houlihan looks to have Jenny Simpson's number. Recap, analysis, video of race.

LRC Sam Kendricks Goes Really High To Get American Record, Fred Kerley Defeats Norman, Dennis Mitchell Is Coaching Justin Gatlin Sam Kendricks is the American record holder and #2 vaulter EVER outdoors. And believe it or not, Fred Kerley is your USATF 400m champ.
*Nike Sent Kenny Bednarek To Train With Justin Gatlin And Dennis Mitchell … Here Is Why That Is A Problem
MB Buzz: 
USAs Wasn't The Only Championship This Weekend
More Weekend Distance Results
More Outside USAs Coverage
Championships For The Young And Old
---
10,000 World Record Holder Almaz Ayana Opens Up About The Injury And Double Knee Surgery Which Kept Her Away From Racing For 19 Months Ayana wasn't able to ditch the crutches until 3 months after surgery and didn't start running at all until late last year. "I was afraid to run because I was scared of how my knees would respond. I didn't know if I would feel pain."

LRC Day 2 Hellen Obiri Stops Hassan, Tefera Goes Sub-3:50 To Defeat Ingebrigtsen, Catriona Bisset Gets 43-Year-Old Australian 800 Record, SAFP Goes Fast, Asian Record In 200 Day 2 saw some great sprint and distance action in London.

LRC 2019 London DL Day 1: Hagos G Holds Off Jakob Ingebrigtsen In Thriller, Laura Muir Crushes It, And Nijel Amos Goes Down The mid-d and distance on Day 1 of London was fantastic. It featured big wins for Laura Muir and Hagos Gebrhiwet, another amazing performance by Norwegian wunderkind Jakob Ingebrigtsen, and disaster for Nijel Amos. Plus a Canadian record in the women's 1,500.

LRC Nijel Amos Pulls Up Lame In London One Week After Running 1:41 In Monaco He's got 70 days to try to be ready for Worlds.
Want a Better Running Shoe?
Beta Better Running Shoe Site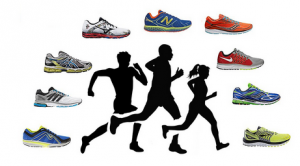 It's Time to Change How We Find Running Shoes