The Best Races Of 2017 (Recaps And Video)

LRC The Best Races Of 2017: Gold & Silver For U.S. In The Steeple, Shalane Wins NYC, Kipchoge Runs 2:00:25 & More  From the track to the roads we've got you covered. We reflect on the most exciting races of 2017, including history from Emma Coburn and Courtney Frerichs, major marathon wins from Shalane Flanagan and Galen Rupp, the brilliance of Eliud Kipchoge and some NCAA action.
The World's Biggest XC Fan

LRC Meet Mr. Cross-Country, The Sport's Biggest Fan Cross-country's biggest fan, Michael Mahon, resides in Massachusetts, where for the past 33 years he has traveled to over 1,747 career meets, bag of cans in tow. And he doesn't plan on stopping anytime soon.
*Michael Mahon – Mr. Cross-Country – Share Your Favorite Story Here
Mo Farah Shocks Himself And The Bookies

A Stunned 50-To-1 Longshot, Mo Farah, Wins British Sports Personality Of The Year Award Farah had been nominated for the award so many times and somehow only once finished once in the top 3 (he wasn't even in the top 3 with double Olympic wins last year) that he didn't attend in person this year and was stunned to win. The live national TV video feed then went out. Video and Farah's reaction here.
Discussion: And the winner of 2017 BBC Sports Personality of the Year is Mo Farah
*Brits what's the American equivalent of British Sports Personality of Year Award? 
More Awards: Coaches Behind British 4 X 100 Team Named British Coaches Of Year
*Dame Jessica Ennis-Hill Gets Lifetime Achievement Award
NCAA News: The Bowerman Award
A Four-Time Tour Winner Goes Down?
The Commonwealth Games Are In April
NCAA News – The 2017 Bowerman Award Gets Announced Friday

A Legend Has Passed: Joe Newton RIP 1929-2017 Newton's York high school teams won 28 state XC titles and the first NXN title, but most importantly he shaped thousands of kids lives. *Pay Your Respects Here
Boston 2018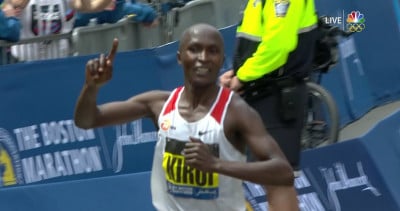 Defending Champions Geoffrey Kirui And Edna Kiplagat Will Return For The 2018 Boston Marathon Both will be coming off an excellent 2017 where Kirui won World gold and Kiplagat the silver. *Video Release
*April Fools Comes Early: Boston Marathon Announces New Vaporfly-Adjusted Qualifying Times Men in the 18-34 age group will need to run a 2:57:30 instead of 3:05:00. *Discuss

LRC Girls Race: Katelyn Tuohy (16:44) Crushes Field As Fayetteville-Manlius Survives To Win 11th Title In 12 Years Tuohy set another course record and F-M won another national title (its 11th in 12 years), but just barely.

LRC Boys Race: Aidan Troutner (15:03) Wins NXN Thriller As Loudoun Valley Sets Meet Record For Fewest Points (89) Troutner pulled the upset and will go to BYU next year. Drew Hunter's former team, coached by his parents, set a record for low points at the meet thanks to great running and two transfers.
Foot Locker: Claudia Lane Wins Foot Locker West Regional By 1:12