MB Talk: Official 2017 USATF Outdoor Nats Day 3 Live Discussion Thread
*Robby Andrews is not a one trick pony anymore – He takes early lead and then takes down Centro!!  Robby Andrews has knocked off the Olympic champ in a big upset.
*Matthew Centrowitz Reveals He Thought He Was Out of Nationals a Couple of Weeks Ago With a Virus and Injury
*Breaking: Clayton Murphy is grabbing his hamstring and limping off the track
*BEN BLANKENSHIP IS A HERO! –
* Centro goes home DEVASTATED
*Anyone think Murphy is in danger?
*SARA MF VAUGHN Simpson has won the 1500 with Grace 2nd but the big story is a realtor and mother of 3 makes her first team at 31.
*Big Names DNS men's 200 
RRW Emily Richards – Star at DIII's Ohio Northern – Impresses at USA Championships in 800m
Friday

LRC Paul Chelimo Crushes The Field & Sends A Message To Mo Farah With Meet Record 13:08 Victory In 5,000 At 2017 USAs Chelimo was so dominant he could pump up the crowd with a lap to go and do his signature WCAP Army salute at the finish.

LRC Three Years After Making 800m Final At USATFs In Sacramento, Shelby Houlihan Returns To Win The 5,000m Houlihan got the upset win over 10,000m winner Molly Huddle and American record holder Shannon Rowbury.
LRC 800 Semis: Donavan Brazier Makes His First Final, So Do 2 Ex-DII Guys, Mouth-Watering Women's Final Set Murphy's quest for the double is on track. One woman will be left out in the cold in the women's 800.
Friday Night Message Board Talk 
LetsRun.com's Pre-Meet Previews:
W800/1,500/Steeple *w5k/10k *M800/1,500/Steeple *M5k/10k
Trail/Ultra News: Western States 100 Mile Is Now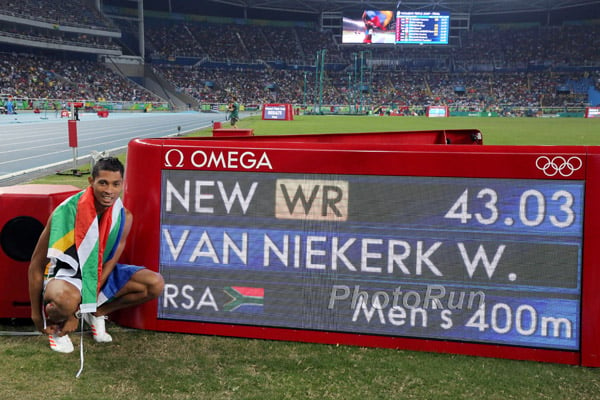 400m WR Holder Wayde Van Niekerk Runs 9.94 PR In Slovenia Niekerk remains the only man to go sub-10, sub-20 and sub-44. World bronze medalist Amel Tuka won the 800 in 1:45.34 and Olympic discus champ Sandra Perkovic set the all-comers record with 69.58m.
*MB: Van Niekerk just run 9.94 +0.9
Ajee Wilson Loses Her American Record
LRC 

Ajee Wilson's Coach Derek Thompson Says "We Don't Have Anything to Hide" And "We're Coming To Win" At USAs The coach of America's best 800 runner reveals that he and Wilson "didn't have a clue what zeranol" was before her positive test. Thompson also says Wilson is in great shape and he hopes she breaks the American record in Monaco.
*Nicole Teter Will Remain The 800 AR Holder To hold the AR, you have to be drug tested after a meet and meet organizers only tested the winner, Wilson, and not Charlene Lipsey.
*Thompson Wants Charlene Lipsey To Be A 1,500 Runner In 2018
*MB: Ajee Wilson loses her indoor 800 American record as the US beef supply contains a banned substance 
USADA Strips Ajee Wilson Of Her Indoor American Record At 800 As She Ate Beef That Everyone In The US Eats She wasn't suspended for any time as she tested positive for a "low parts per billion concentrations" of zeranal – "a legal growth promotant in beef cattle in the US."  Zeranal is illegal for beef farmers in Europe.
More Weekend International Action
Going Pro Early
Coffee/Nap News

LRC 2017 Bislett Games Recap: Jake Wightman Pulls Off A Huge Upset, A 16-Year-Old Runs 3:56 and A Woman's Wig Comes Off Mid-Competition Fans who watched the 2017 Bislett Games were entertained in a variety of ways on Thursday evening. On the track, two precocious Norwegian talents delighted the home crowd. Off the track, a woman long jumper's wig fell off during the event and a rabbit forgot to run the water jump in the women's steeplechase and then took out the #1 seed from behind. *Full Results 

LRC Oslo Track And Field Blooper Reel: A Wig Falls Off, The Rabbit Misses The Water Jump And More The meet was full of crazy stuff that you don't normally see at a track meet.
MB: Official 2017 Bislett Games – Oslo Diamond League Discussion Thread
MB: Jakob Ingebrigsten runs age 16 WR of 3:56.31 in Oslo!!! 
MB: WTF Wightman Some British guy I've never heard of just won the Oslo 1,500
MB: Dafne Schippers Blatantly False Starts in 200 in Oslo But is Allowed to Run