Is King Ches The GOAT? / Is Steeple Hurdle Technique Overrated?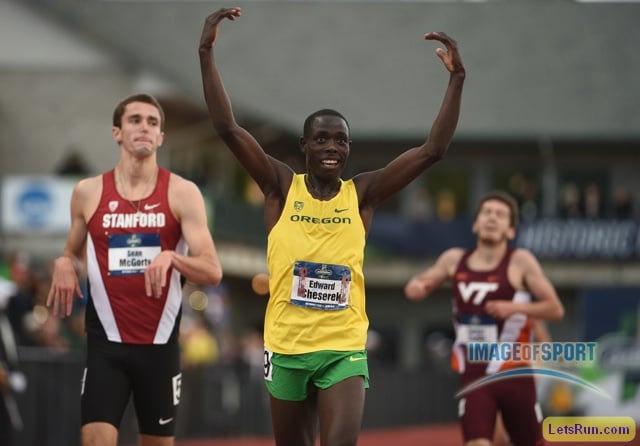 LRC Is Edward Cheserek The GOAT of NCAA Distance Running? Why the Answer Isn't That Simple King Ches certainly had an amazing career but Gerry Lindgren only lost once at NCAA championship, Henry Rono set a world record in four different events in one season, and Suleiman Nyambui won just as many NCAA individual titles but also secured an Olympic medal and had better pbs at the 1,500, mile, 5000 and 10,000.
*MB: Is Edward Cheserek the GOAT for NCAA distance runners?

LRC How Much Do the World's Top Steeplechasers Practice Hurdle Form? For 2008 Olympic Champ Brimin Kipruto, the Answer is "Never" Everyone prepares for the steeplechase in their own way, from the Olympic champion who claims he never practices hurdling to Evan Jager, who works on his hurdle form every week. LetsRun.com consulted the experts to explore the differences between the top Kenyan and American steeplers and the importance of hurdle form.
*MB: How important is hurdling form to being great at the steeplechase? We asked the experts.
*MB: Kiprop runs steeple 1 week before pre classic
More Weekend Track Action
2017 TrackTown Summer Series Draft Is Complete
Want To Race Like A Pro? Read The Following

LRC Kim Conley's Race Day Routine: Conley Shares Her Race Day Routine On The Newly-Formed LRC Instagram Account From breakfast at Whole Foods to some afternoon book time (Racing the Rain), Kim shares the secrets that have made her a two-time Olympian for New Balance. Follow us on Instagram, Twitter and Facebook.
Pre Is Next Week Men's 5,000 At Pre Is Going To Be Le LOADED More than half the field has a global medal. It includes Farah, Geoffrey Kamworor, Conseslus Kipruto, Yomif Kejelcha, Paul Tanui, and Americans Paul Chelimo, Ryan Hill, Ben True and Eric Jenkins.
Women's 200 Will Also Be Loaded Field includes Elaine Thompson, Dafne Schippers, Allyson Felix, Shaunae Miller-Uibo and Tori Bowie.
Weekly Recap

LRC WTW: Molly Seidel And Erin Finn Are Both MIA, Devin Dixon Arrives, Mark Wetmore Produces An 800 Champ, And A Simple Rule Change Guaranteed To Make Track & Field More Popular This week we tell the NCAA of simple rule change that needs to be made immediately, take a look at the Colorado men's first 800 champ in 28 years, and more.
LRC Watch The TrackTown Summer Series Draft Live On LetsRun.com At 7 PM ET On Friday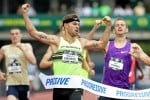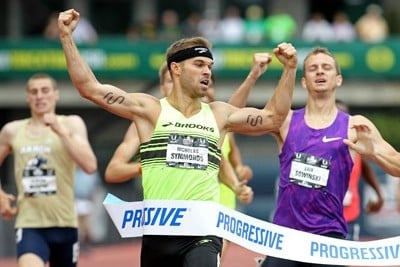 LRC "GM" Nick Symmonds, Hoping To Make USAs One Final Time, Is In 1:50 Shape Right Now, Ready For Friday's Tracktown Summer Series Draft This is Symmonds' final season on the track and he's hoping to qualify for USAs and see what happens. Meanwhile, as GM of team San Francisco, he's getting ready for Friday's Tracktown Summer Series draft, and also getting ready for life after being a pro track runner.
British 10K Trials In The Books *Results
Triathlete Beth Potter And Andy Vernon Triumph At British 10,000 Trials At Highgate Night Of The 10,000m PBs Potter, a triathlete who only runs 50 miles a week, took the win in 32:04 with a comfortable lead over Steph Twell while Jo Pavey finished back in 4th (32:42). Vernon won in 28:21 to beat Dewi Griffiths by 10 seconds.
*BBC: 43-Year-Old Jo Pavey Misses Out, But Not Giving Up As She Can Still Be Selected For The 3rd Spot If She Drops A Fast Time Pavey had a tough comeback with some health issues after DNFing at the London Marathon.
*IAAF Recap
*MB: Official Night of 10k PBs Live Discussion Thread
It Was A Great Night For The NOP On The Track But A Horrible Morning Off The Track

NY Times Publishes 2,400-Word Expose On The Nike Oregon Project: "This Doesn't Sound Legal" – Ritz Testifies Under Oath The Times has secured access to the 269-page report that the USADA has written about the NOP. Dathan Ritzenhein testified under oath that he felt compelled to take an L-Carnitine injection that he thought didn't "sound legal" as Nike was reducing his payments. Ritz also said Alberto Salazar had him take thyroid medication to rev up his endocrine system for a race "instead just whatever was best for my health." The report also indicates Tara Welling lied to investigators about ever being a patient of Dr. Brown and that Dr. Brown sent investigators altered medical records. When pressed about what sort of treatment she received from Dr. Brown, Welling cried and said, "I don't know if Alberto did something to me."
*MB: NY Times Article on Nike Oregon Project implicates Ritz and Farah
*Ken Goe's Quick Takes From The Latest Story Alleging Doping Within Alberto Salazar's NOP
More Links That We Found Interesting
RIP
1956 Olympic 10,000 Bronze Medalist And Houston Coaching Legend Al Lawrence Has Died
*MB: RIP Al Lawrence — 1956 Bronze Medalist
Toni Reavis Remembers The Great Grete Waitz 6 Years After Her Passing
NCAA Studs

LRC Top 10 Greatest Performers From NCAA Conference Weekend: Christian Coleman, Fred Kerley, Deajah Stevens, Grant Fisher, Dani Jones And More Shine Just another ho-hum NCAA weekend with a 9.97/19.98 double, 44.09 in the 400m, 11.05/22.09 double, 51.8-second lap in a 1,500m. Plus there was some great distance action. From Grant Fisher's domination of the PAC-12 1,500 to the arrival of Texas A&M's true freshman Devin Dixon as an NCAA star (1:45 win at SECs), we've got the top performances from last week covered.
Fast Monday 1,500 At Swarthmore
Want a Better Running Shoe?
Beta Better Running Shoe Site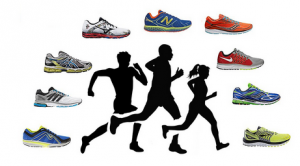 It's Time to Change How We Find Running Shoes