Monday In Rio

LRC M800 Final: King David's Reign Continues: David Rudisha Becomes First Man In 52 Years To Repeat As Olympic 800m Champion, American Clayton Murphy Snags Bronze Rudisha has become the first man since 1964 to repeat as Olympic 800 champ.

LRC Unbelievable: Clayton Murphy Goes From 1:56 800m Runner To Olympic Bronze Medalist Talking World Record In Four Years What an amazing journey for Clayton Murphy.
Murphy Mania On The Message Board

LRC  Shaunae Miller Dives At Line And Wins 400m Gold Medal – Prevents Allyson Felix From Becoming First Woman With 5 Olympic Gold Medals In Track And Field What a finish. This is what the Olympics is all about.
LRC Brazil's Thiago Braz da Silva Upsets Renaud Lavillenie For Pole Vault Gold And Sets The Olympic Record (6.03m) In Front Of Delirious Rio Crowd

LRC Emma Coburn Wins America's 1st-Ever Women's Steeplechase Medal In Style As Bahrain's Ruth Jebet Claims Gold In Near World Record (updated and final) Jebet missed the world record by less than a second as Coburn broke the American record in winning bronze.
*MB: Coburn for bronze!

LRC Men's Steeple Prelims: Evan Jager And Hillary Bor Win Their Heats As All Three Americans Advance To The Olympic Final for the First Time Since 1936 A great day for the Americans.

LRC A New, More Relaxed Evan Jager Heads To His Second Olympic Final With A Medal On His Mind
LRC Two-Time Olympic Champion Veronica Campbell-Brown Of Jamaica Shockingly Eliminated In First Round Of Women's 200 Meters Five women entered the 2016 Olympics with a chance to win three individual Olympic titles in the same event and now four of them have failed. VCB was just third in her heat in 22.97; it took 22.94 to make it on time.

Anita Wlodarczyk Breaks Hammer WR – Wins Gold
*Video Of The Monster Throw
More Rio Saturday

LRC USA X 2: Both Beris Berian And Clayton Murphy Advance To Men's 800 Final – Reaction And Analysis A great day for the Americans as Brandon McBride went home.
Saturday Rest Of Meet: Elaine Thompson Wins Anticipated Women's 100m, Jeff Henderson Of US Wins Long Jump On Final Jump, Jessica Ennis Hill Upset By Nafi Thiam Tori Bowie got silver in the 100, Brianne Theisen-Eaton got bronze in the heptathlon, and earlier in the day Chris Harting, the younger brother of defending champ Robert, won the discus.
Bizarre Russian Doping Updates
Opening Day Action (Friday) In Rio
LRC History In Rio: Almaz Ayana Smashes Women's 10,000 World Record With 29:17.45 In Greatest Women's 10,000 Ever – Molly Huddle Breaks American Record In 6th (updated) What a start to the track and field action in Rio!
LRC Almaz Ayana: "My doping is my training. My doping is Jesus. Otherwise. Nothing. I am crystal clear."
10,000 Madness On The MBoard: 
All Your Non-Distance Friday Action

LRC Michelle Carter Unleashes An American Record (20.63m) On Her Final Attempt To Stun Valerie Adams For Olympic Shot Put Gold Medal 32 years ago in Los Angeles, Carter's dad Michael earned Olympic silver in the shot put. His daughter did him one better tonight in Rio, coming through for gold in the final round under the most pressure imaginable.
*Michael Carter Says "There's No Comparison" Between Being Olympic Champ And Super Bowl Champ (Shot > Super Bowl)

*Other (At Bottom Of Shot Article): Women's 100m Round 2, Men's 400m Round 1, Heptathlon Day 1.
*The Guardian: Jessica Ennis-Hill Leads After Heptathlon Day 1 As Greg Rutherford Survives Scare In LJ Ennis-Hill leads by 72 points as Greg Rutherford almost didn't get a mark after fouling his first two jumps.
*Jessica Ennis-Hill Vs. Katarina Johnson Thompson: Event-By-Event, Who Is Stronger?
Mid-D Prelims

LRC Women's 1,500 Prelims: Genzebe Dibaba Gaps The Field As Does Dawit Seyaum As All Three Americans Advance We break down the 1st round of the women's 1,500 for those of you that were out on a Friday night.

LRC Men's 800 Prelims: Look Out World, David Rudisha Is "Almost Close" To His 2012 Form; Clayton Murphy Scrapes Through, Boris Berian Advances And 2012 Silver Medalist Nijel Amos Goes Home Rudisha looked great, leading all qualifiers with his 1:45.09 as Murphy ran 1:46.18 behind him but only made the semis on time. Amos faded badly and was only seventh in his heat in 1:50.46 while American Charles Jock (6th in heat 4) was also among the casualties.
*MB: Clayton Murphy draws the Heat of Death for 800 semis – Rudisha, Kszczot and Souleiman!!! What should he do?
US Road News
Tonight: Leo Manzano Takes On Kyle Merber And Johnny Gregorek At The West Chester Mile Men's field also has Jack Bolas, Mac Fleet and Kirubel Erassa while the women are lead by Lauren Johnson, Nicole Tully, Rachel Schneider and Ashley Higginson.
*BBTM Prediction Contest
August 21: Stephen Sambu And Diane Nukuri Face Deep Field As They Try To Defend Their New Balance Falmouth Road Race Titles Sambu faces US 10K Olympian Leonard Korir, World marathon silver medalist Yemane Tsegay, Sam Chelanga, Abdi Abdirahman and Aaron Braun. Nukuri is up against Betsy Saina, Kim Smith, Sara Hall, Neely Spence Gracey and Aliphine Tuliamuk-Bolton.
Incidents Like The Boston Bombing And Hurricane Sandy Have Seen Insurance Rates For Big Races Double In The Last Several Years The NYRR's insurers had to pay out $15 million after Hurricane Sandy cancelled the 2012 race while the BAA's paid $138,000 in losses from the bombings.

The Olympic track and field action start on Friday. It's time to get down to business. Enter our fantasy track and field contest. Free and so simple that a non-track fan could win it.
Want a Better Running Shoe?
Beta Better Running Shoe Site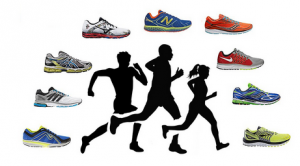 It's Time to Change How We Find Running Shoes