MB: Usain Bolt Does It Again! – Is Bolt the greatest athlete of all time, in any sport?

LRC Kenya Is Golden At Last: Jemima Sumgong Wins Kenya's 1st Olympic Gold In Women's Marathon As All Three Americans Finish In The Top 10 (updated and final) Find out what happened in the women's marathon here.

LRC Shalane Flanagan Leads US Team To Historic Day At Olympic Marathon And Says This Likely Is Her Final Olympics In the history of the Olympics, only twice had an American woman cracked the top 9 – three did it this morning.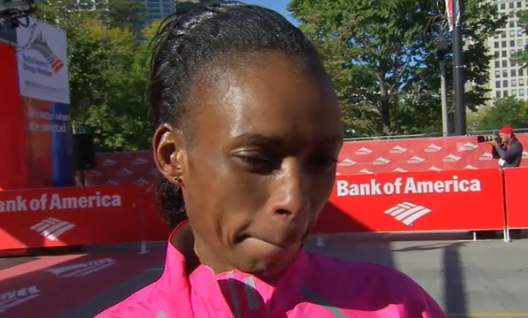 LRC With Former Training Partner Banned From The Sport And Agent Federico Rosa Facing Doping Charges In Kenya, Jemima Sumgong (And Federico Rosa) Responds To Doping Questions
Sunday Overall Preview LRC Day 3 Friends And Family Preview: Usain Bolt Goes For The Three-Peat, While Three Great Champions Will Battle It Out For The 400m Title We believe track and field is much more enjoyable if you understand what is going on, so print out this preview and give it your non-track and field obsessed fans so they can enjoy Sunday's action.

LRC  Mo-nificent: Mo Farah Survives Fall & Repeats As Olympic 10,000-Meter Champion updated with post-race comments Farah survived a fall, some team tactics from the Africans and a brave final effort by Tanui, but came out on top once again. 27:05.17 over Tanui's 27:05.64 as Tamirat Tola held off Yigrem Demelash for the bronze. Galen Rupp was 5th; Geoffrey Kamworor was a non-factor in the end, finishing 11th. Recap and analysis to come. Video Highlights
Post-Race Reaction From Galen Rupp, Zane Robertson (Kiwi Record), Mo Ahmed (Last Place), And More

MB: Mo Farah Defends His Olympic 10,000 Title, Blowing By Paul Tanui In The Final Meters 
More Outside Rio Coverage
More Rio Saturday

 

LRC Women's Steeple Prelims: Emma Coburn's Medal Chances Go Up As All Three Americans Make The Final updated with quotes from Coburn We've got you covered if you decided to sleep in on a Saturday morning.
Saturday Preview LRC Day 2 Friends And Family Preview
8:27pm ET LRC Men's 10,000 Preview
*Mo Farah Would Be "Devastated" If He Left Rio Without Winning Two More Gold Medals Farah on life changing 2012: "I couldn't go outside. I wore a hoodie and sunglasses to see my family. … I couldn't be Mo walking down the street any more."
*Jos Hermens In Wall Street Journal: "Mo is lucky there's not an athlete like (Geb or Tergat) that he has to compete against."
Non-Distance Rio Previews
International Distance News
HUGE Doping News
Must Read Head Of WADA's Investigation Into Russian Doping Absolutely Rips WADA And IOC  – Says WADA Chief Craig Reedie Never Asked Him Once About The Investigation Former DEA superstar Jack Robertson held nothing back in a Q&A with ProPublica and the BBC: "The action the IOC took has forever set a bar for how the most outrageous doping and cover up and corruption possible will be treated in the future … The people in charge are basically raping their sports and the system for self-interest. Sport is seriously broken."
Demand Change Sign The Petition Asking For Reedie's Resignation
MB: ProPublica interview with Jack Robertson – WADA and IOC tried to kill Russian doping investigation and fallout
More Doping News

LRC USA X 2: Both Beris Berian And Clayton Murphy Advance To Men's 800 Final – Reaction And Analysis A great day for the Americans as Brandon McBride went home.
Saturday Rest Of Meet: Elaine Thompson Wins Anticipated Women's 100m, Jeff Henderson Of US Wins Long Jump On Final Jump, Jessica Ennis Hill Upset By Nafi Thiam Tori Bowie got silver in the 100, Brianne Theisen-Eaton got bronze in the heptathlon, and earlier in the day Chris Harting, the younger brother of defending champ Robert, won the discus.
Bizarre Russian Doping Updates
Opening Day Action (Friday) In Rio
LRC History In Rio: Almaz Ayana Smashes Women's 10,000 World Record With 29:17.45 In Greatest Women's 10,000 Ever – Molly Huddle Breaks American Record In 6th (updated) What a start to the track and field action in Rio!
LRC Almaz Ayana: "My doping is my training. My doping is Jesus. Otherwise. Nothing. I am crystal clear."
10,000 Madness On The MBoard: 
All Your Non-Distance Friday Action

LRC Michelle Carter Unleashes An American Record (20.63m) On Her Final Attempt To Stun Valerie Adams For Olympic Shot Put Gold Medal 32 years ago in Los Angeles, Carter's dad Michael earned Olympic silver in the shot put. His daughter did him one better tonight in Rio, coming through for gold in the final round under the most pressure imaginable.
*Michael Carter Says "There's No Comparison" Between Being Olympic Champ And Super Bowl Champ (Shot > Super Bowl)

*Other (At Bottom Of Shot Article): Women's 100m Round 2, Men's 400m Round 1, Heptathlon Day 1.
*The Guardian: Jessica Ennis-Hill Leads After Heptathlon Day 1 As Greg Rutherford Survives Scare In LJ Ennis-Hill leads by 72 points as Greg Rutherford almost didn't get a mark after fouling his first two jumps.
*Jessica Ennis-Hill Vs. Katarina Johnson Thompson: Event-By-Event, Who Is Stronger?
Mid-D Prelims

LRC Women's 1,500 Prelims: Genzebe Dibaba Gaps The Field As Does Dawit Seyaum As All Three Americans Advance We break down the 1st round of the women's 1,500 for those of you that were out on a Friday night.

LRC Men's 800 Prelims: Look Out World, David Rudisha Is "Almost Close" To His 2012 Form; Clayton Murphy Scrapes Through, Boris Berian Advances And 2012 Silver Medalist Nijel Amos Goes Home Rudisha looked great, leading all qualifiers with his 1:45.09 as Murphy ran 1:46.18 behind him but only made the semis on time. Amos faded badly and was only seventh in his heat in 1:50.46 while American Charles Jock (6th in heat 4) was also among the casualties.
*MB: Clayton Murphy draws the Heat of Death for 800 semis – Rudisha, Kszczot and Souleiman!!! What should he do?
US Road News
Tonight: Leo Manzano Takes On Kyle Merber And Johnny Gregorek At The West Chester Mile Men's field also has Jack Bolas, Mac Fleet and Kirubel Erassa while the women are lead by Lauren Johnson, Nicole Tully, Rachel Schneider and Ashley Higginson.
*BBTM Prediction Contest
August 21: Stephen Sambu And Diane Nukuri Face Deep Field As They Try To Defend Their New Balance Falmouth Road Race Titles Sambu faces US 10K Olympian Leonard Korir, World marathon silver medalist Yemane Tsegay, Sam Chelanga, Abdi Abdirahman and Aaron Braun. Nukuri is up against Betsy Saina, Kim Smith, Sara Hall, Neely Spence Gracey and Aliphine Tuliamuk-Bolton.
Incidents Like The Boston Bombing And Hurricane Sandy Have Seen Insurance Rates For Big Races Double In The Last Several Years The NYRR's insurers had to pay out $15 million after Hurricane Sandy cancelled the 2012 race while the BAA's paid $138,000 in losses from the bombings.

The Olympic track and field action start on Friday. It's time to get down to business. Enter our fantasy track and field contest. Free and so simple that a non-track fan could win it.
Olympic Distance News
Meet Pascal Dobert, One Of The Unsung Heroes Behind Evan Jager And The Bowerman Track Club Steeplers Jerry Schumacher's assistant coach Dobert and Evan Jager talk about how Jager's fall and fast time in Paris last year put negative pressure on him and lead to his poor race at Beijing Worlds.
*Podcast Q&A With Evan Jager
First Impressions Q&A With Eliud Kipchoge, Who Feels He's Fortunate To Have Had The Same Coach (Patrick Sang) His Entire Career Talking about his childhood, Kipchoge says he never had any toys, but had a pet dog named Simba.
NPR Does Q&A With Brenda Martinez, Who Talks About Starting Track At 5 Years Old And Her Family's Financial Struggles When She Was A Kid Talking about Rio, Martinez says, "I'm going to treat it like a business trip. I'm not here to have a good time. I'm here to represent the U.S."
This Year, Evan Jager Has Emphasized Running Fast Through Barriers And Water Jumps Rather Than Slowing Jager says last year he "just assumed … speed was speed" and would translate well to the steeple, but he's realized it's different with the barriers.
Runner's World: Army Puts Kenyan Athletes On The Fast Track To Citizenship And The Olympics Four of four US Army runners at the Trials made the US team for Rio.
Molly Huddle Talks About The US Trials And Shares Her Top Tips For Running A Great 10K Huddle sometimes trains with her husband, former Notre Dame mid-d runner Kurt Benninger. Huddle says that as a miler he can always outkick her "even if he's really out of shape."
Russia, Doping And Swimming
---
Lunatic Who Tackled Brazil's Vanderlei De Lima During 2004 Olympic Marathon Is Furious That He Lit The Rio 2016 Cauldron Irish priest Neil Horan claims that he apologized to de Lima, but never got a response and that de Lima wouldn't be famous without him.
Want a Better Running Shoe?
Beta Better Running Shoe Site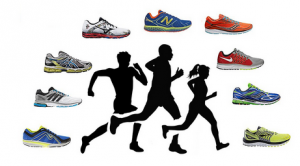 It's Time to Change How We Find Running Shoes