MB: Official 2016 NCAA Women's Outdoor Track and Field Discussion Thread 
Thursday Results: Dominique Scott Cruises in 10k, PRs in W1500, NCAA Records in Javelin and Shot
LRC Thursday Video Interviews Dominique Scott, Claudia Sanders, Elise Cranny,Courtney Freirechs more

Thursday Update: LRC Freshman 800m Phenom Donavan Brazier Says He Will NOT Run The Olympic Trials And Has No Idea Who Jim Ryun Is
LRC Bailey Roth, American High School Record Holder In The Steeplechase, Is Back With 8:37 PR After Running 9:14 At End Of May Medical issues had his season going the wrong direction, but now it's trending up.
Full Coverage On Our 2016 NCAA Outdoor Event Page.
NCAAs Wednesday Day 1
Day 1 Full Results King Ches won his 14th title, the 800 prelims were amazing and there was a sub-10 100.

LRC Business As Usual: Edward Cheserek Cruises To Third Straight NCAA 10,000 Title King Cheserek is back on top. As expected, no one could match Cheserek on the final 400m Wednesday. Futsum Zeinasellassie was 2nd and Gabe Gonzalez a surprise 3rd.

LRC Day 1 Recap – Look Out – Tremendous 800 And 1,500 Finals Set For Friday As McBride, Brazier, Yorks, Murphy, Kidder, Wynne Look Great Jim Ryun's NCAA record turns 50 on Friday and now is officially in jeopardy. We recap all of day 1's distance action plus Texas's Senoj-Jay Givans went sub-10 for first time.
LRC Men's Day 1 Video Interviews
Day 1 On The Message Board
Women Compete Thu./Saturday: *MB: Official 2016 NCAA Women's Outdoor Track And Field Discussion Thread
Full Coverage On Our 2016 NCAA Outdoor Event Page.
2016 Has Been A Big Year For Alexi Pappas
Early Week Action / Weekend Leftovers
The Olympic Trials Are Less Than A Month Away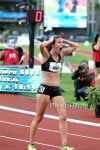 LRC LetsRun.com Olympic Trials Q&A: Who Are The Favorites To Make Rio? What Big Names Are Going To Stay Home? Wednesday marks three weeks to go until the Olympic Trials. With that in mind, it's time for the LRC crew to start looking ahead. Who looks good? Who needs a lot of help? Who might surprise? Dare we say who will make the team?
Doping Updates: Russia's Date With Destiny Is In 10 Days
What Is Wrong With Some Countries?
David Torrence Will Run For Peru In 2016 Olympics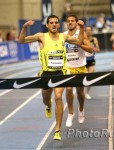 LRC Q&A: David Torrence Talks About Why He's Switching Nationalities To Peru, Seb Coe's Criticism And Why He Wants To Run The 800/1,500 Double In Rio Torrence said he's hoping to inspire the people of Peru by representing them in Rio and said that he had to do some soul searching before reaching a decision. "I'll acknowledge that getting to the Olympics now is a much easier task. But if anything, that made me want to run for the U.S. even more."
*MB: David Torrence request to compete for Peru granted!

Other Citizenship News: GB Olympian Julia Bleasdale Hopes To Run For Germany In Rio She was 8th in the 5K and 10K at London 2012.
Week That Was

WTW Molly Huddle And Emma Coburn Open Up Fast, NCAA Regional Flops And Kim Collins Breaks 10 At Age 40 Who flopped at NCAA Regionals? Does your state let transgender athletes compete without treatment? We answer those questions and more.
Nike Gets Restraining Order But Berian Finds Some Important Supporters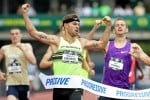 LRC The Restraining Order That Nike Sought Against Boris Berian Is Now Out – Read It Here – Plus Under Penalty Of Perjury, Nick Symmonds, Jesse Williams And Sally Bergesen Support Berian We've received the copy of the minute order from a legal expert and they provide a little analysis of what it all means. We also have copies of sworn affidavits in support of Berian from Jesse Williams, Nick Symmonds and Sally Bergesen. Under penalty of perjury, Williams said he's never signed an athlete to a contact with reductions in it in 12+ years at Brooks.

LRC Nike Is Granted Temporary Restraining Order In Its Lawsuit Against Boris Berian Nike got the 14-day temporary restraining order (TRO) it was seeking even though under the penalty of perjury New Balance's John Evans said his contractual offer to Berian had no reductions in it.
*MB: Official Discussion Thread For Boris Berian's Contract Dispute
*MB: Wow: Nike's mafia-themed party where LetsRun.com was allegedly one of 3 parties to be 'hit 'makes it into the WSJ
Berian Podcast From Monday Night Where He Talks About The Lawsuit *Itunes
USATF News: Update On Youth Dispute
Upcoming Diamond League Action

LRC Recap: David Rudisha Is BACK – Runs World's Second Fastest 600m Ever But Is Nearly Beaten, Mo Farah Gets The One Record He Didn't Have, Asbel Kiprop Sub-3:30, And The American 800m Women Struggle Again Rudisha is back but beatable, Farah now owns all the British records, the 800m is a different event this year, and Caterine Ibarguen's 38-win streak in the triple jump came to an end as English Gardner and Andre De Grasse got wins.
Gender Controversy Continues
What Makes Asbel Kiprop So Good? We Try To Tell You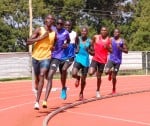 The Pre Classic is this weekend and the Bowerman Mile is LOADED with Olympic champ Taoufik Makhloufi, all three medalists from Worlds last year, plus studs like Matthew Centrowitz, Silas Kiplagat and Ayanleh Souleiman. But the headliner is Asbel Kiprop, and our man on the ground in Kenya, Andy Arnold, says hand him the victory and world record later this summer after getting a behind-the-scenes look at his preparation for Pre.
*MB: The secrets of Asbel Kiprop revealed - Our man on the ground in Kenya says hand him the gold and WRecord
Want a Better Running Shoe?
Beta Better Running Shoe Site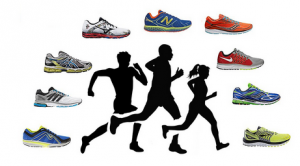 It's Time to Change How We Find Running Shoes