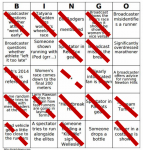 Bingo came to the Boston Marathon for the first time.
London 2017 Tickets Go On Sale August 1st
Diamond League Season Is Right Around The Corner
Stacked Field Set For Pre Classic 5,000: Americans Ben True, Ryan Hill, Bernard Lagat Face Top Africans Geoffrey Kamworor, Yomif Kejelcha, Hagos Gebrhiwet And Caleb Ndiku There are 10 guys who have gone under 13 minutes, including Yenew Alamirew, Isiah Koech and Edwin Soi. Chris Derrick, Cam Levins, Hassan Mead, Paul Chelimo also in the field.
May 6: World Champions Almaz Ayana And Vivian Cheruiyot Will Duke It Out Over 3,000m At The Doha DL Meet Eunice Sum will face the new and improved Caster Semenya in the 800 and there will also be a great men's steeple with Ezekiel Kemboi, Jairus Birech, Brimin Kipruto and Conseslus Kipruto.
Katie Rainsberger And Devon Allen Impress At Oregon Relays *Full Results
SA Champs: The Only Thing That Can Stop Her Is The Courts *Results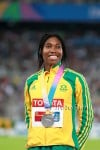 MB: Hand her the gold medal(s) now – Caster Semenya completes ridiculous 50.76/1:58.46/4:10 double in span of 50 minutes triple in span of 4:10 The double – during which she had 50 minutes between the 400 and 800 (which was run off of a 61 first lap) – blew us away. Then we found out she was also running the 1,500. 3:20 later, the triple was complete.
*IAAF Recap: World Champ Wayde van Niekerk Cruises To 400 Win In 44.98 Stephen Mokoka had a solid distance double, winning the 5K/10K double in 13:40 and 27:57. Ruswahl Samaai had a big LJ win in 8.34m.
*AP On Caster Semenya's Crazy Triple Semenya: "Sometimes you've got to enjoy what you do. I haven't had fun in a while."
News We Found Interesting
Doping News
More Boston/ Marathon Cheating News
Recommended Read: Marathon Cheating More Prevalent Than You Think – Investigation Reveals At Least 47 Runners Cheated Their Way Into The 2015 Boston Marathon Inspired by the Mike Rossi story, a runner and "math geek" named Derek Murphy started a blog and Facebook group dedicated to catching race cheaters, and using a special algorithm, race photos and results sites, he found a bunch.
Canada's National Post Leads Story On Race Cheating With Quote From LetsRun.com Co-Founder Robert Johnson Rojo says he won't be offering a $200,000 challenge to the Canadian triathlon cheater.
Defending Champ Lelisa Desisa Looking For His Third Win In Boston After running an impressive five marathons in 1 year (NYC, Dubai, Boston, Beijing, NYC), he realized he needs to scale back and only focus on two a year.
Roberta "Bobbi" Gibb, The First Woman To Run Boston, Sculpting Her Own Statue To Honor Her Historic Run The modest Gibb says she's "really embarrassed doing a sculpture of myself" and would prefer to do a generic woman.
Have You Read This Yet? LetsRun.com Goes To Kenya 2016

LRC Exclusive One Week, Three Workouts: Behind The Scenes With Renato Canova, Florence Kiplagat, Thomas Longosiwa And Jairus Birech We have another exclusive update for you from Kenya and are worried that since we aren't charging you to read this we might be charged with theft, as the intellectual property of one of the world's greatest coaches is being given away for free. Oh well. His loss, your gain. Our man on the ground in Kenya, Andy Arnold, goes behind the scenes and gives you the rep-by-rep splits of three of the world's top distance runners as they prepare for Rio. Plus Birech makes an Olympic prediction that Evan Jager fans will want to read.
More From The Weekend / Early Week Action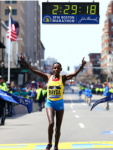 LRC  Ethiopia's Atsede Baysa Storms From Behind To Win Boston Marathon In 2:29:19 After Leaders Blow It With A 5:00 16th Mile (Updated with interviews with Neely and Steve Magness) dramatic come-from-behind victory for Ethiopia's Atsede Baysa as Neely Spence Gracey was 9th.
International Road Results
Boston Marathon Appetizers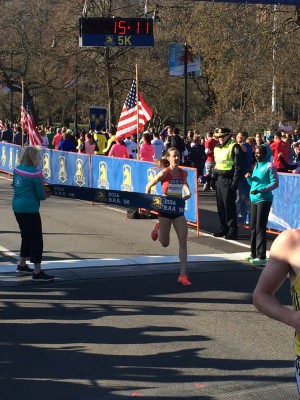 LRC Molly Huddle (15:14) Wins Third Straight B.A.A. 5K Title; Dejen Gebremeskel (13:39) Takes Down Ben True (13:41) In Men's Race Both of the American stars will be running the 5,000 at the Pre Classic.
LRC Chris O'Hare (4:10.2) And Brook Handler (4:49.6) Win 2016 B.A.A. Invitational Miles Kemoy Campbell and Heather Kampf were the runners-up (Kampf for the third straight year).
Pro Sprint Action: Yohan Blake Back In The Club
News From The UK
2016 South African Champs
Boston

LRC What's It Like Being The Husband Of A Potential American Marathon Star? We Talk To Dillon Gracey Before Neely Spence Gracey's Debut In Boston Dillon Gracey tied for 3rd in our $20,016 LRC Running Warehouse USA Indoor Prediction Contest. We used that as an excuse to talk about Neely's debut in Boston and being the husband of an American star.
Neely Spence Gracey Ready For Boston "Training has been great and she's healthy and ready to go." From the interview above.
LRC Two Aspiring Coaches Triumphed In Our Running Warehouse USA Indoors Prediction Contest We give props to two of the guys who finished ahead of Dillon in the LRC Running Warehouse Prediction Contest.
LRC Running Warehouse Worlds Contest Recap

LRC Doping Scandal Comes To LRC $200,015 Running Warehouse World Indoors Prediction Contest Doping has tainted our contest but you still can meet the interesting winners who make up LRC and win our contests.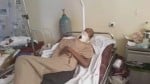 One Ethiopian runner is dead, another is in critical condition after a truck plowed them over on a training run on Saturday. Help them now. *Donate here.