Doping Updates: Good News For Kara Goucher And Shalane Flanagan
Week That Was

LRC WTW: More Madness From The World Half Champs, Colleen De Reuck Still Has It, Some US Road Action And Should The IAAF Change The World Track Champs? We tell you everything going on in the running world, including Allyson Felix being on a Wheaties box.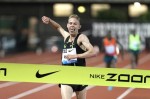 Men's 10k on prime time. Can they please do the same at the Olympics?
---
Good Read: Ben True Started Dating His Wife, Professional Triathlete Sarah True, In Part Thanks To A Broken Toe Which Forced Him To Cross Train With Her The Trues explain the pros and cons of being married to a fellow pro endurance athlete.
---
Molly Huddle A Top Story On Deadspin: "If You See Something, Say Something. Unless It's About A Fellow American" The writer doesn't think Huddle should have been so indignant about people questioning whether she should have been DQed at the NYC Half.
*MB: Molly Huddle Interference? Should Huddle have been DQ'd for flailing her arms out?
More Post-World Half News