#WhatabouttheSport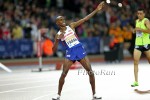 LRC What About the Sport? Big Praise for Mo Farah; the IAAF and Abbott World Marathon Majors Needs to Improve Their Broadcasts How can we improve our sport? By taking one little step after another.
Fast Teenage Sprint News
More Sprint / Jump News
Post-Worlds News
Most Athletes Are Devastated After Finishing 4th At Worlds, But Not Laura Roesler, Who Was Thrilled "I really can't say I'm on the verge of tears or disappointed. After the year I had last year, making this final, all my dreams have come true."
On Absolute Scale, Renaud Lavillenie And Brittney Reese Had The Best Performances At World Indoors According To All-Athletics.com Omar McLeod and Jenn Suhr were the next in line.
Britain's Trying To Figure Out Why They Sucked So Badly At World Indoors It was their worst showing in an Olympic year ever. "For too long Britain has leant almost exclusively upon the golden triumvirate of Mo Farah, Jessica Ennis-Hill and Greg Rutherford for its hopes of glory at world level."
Sebastian Coe Chides UK Athletes For Skipping World Indoors "I think some of them are hiding away from competitions. And there is no substitute for competition, there really isn't."
Chris Chavez Gives You His Five American Indoor Track Stars To Watch In 2016 Berian, Bromell, Cunningham, Hill and Morris.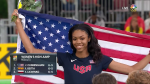 LRC Vashti Cunningham – Randall's Daughter – Wins World High Jump Title And Announces That She's Going Pro Cunningham won while not even jumping as high as she did last week at USAs as she was clean on her first four attempts.
*AP Profile Of Randall And Vashti Cunningham Before The HJ Final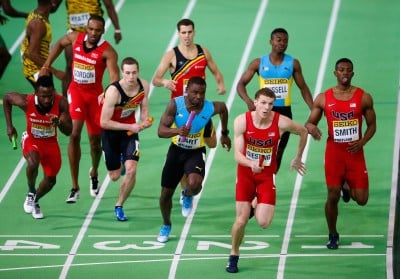 LRC The Rest Of The Meet: Marquis Dendy And Omar McLeod Win Their First World Titles And The US Dominates Both 4 X 400s To Finish With Half The Gold Medals At Worlds The US picked up 5 more golds to finish with half of the 26 golds awarded at Worlds.
While You Were Sleeping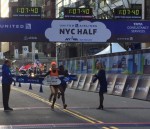 LRC Molly Huddle Wins 2016 NYC Half In Controversial Fashion (67:41 CR), Stephen Sambu Rolls In 61:16 The women's race was super-tight and people are wondering if Huddle should have been given the DQ. Decide for yourself.
*MB: Molly Huddle Interference? Should Huddle have been DQd for flailing her arms out at United Airlines NYC Half? 
LRC EPO Cheat Wilson Loyanane Erupe Wins $180,000 At Seoul Marathon As Patrick Makau Drops Out And European Record Barely Survives Kenya's Rose Chelimo won the women's race in a new personal best of 2:24:14.
Catching Up With Ben True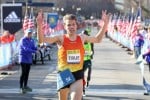 After a fantastic 2015, Ben True is very bullish on 2016 even if he is a little banged up right now. Update: True has withdrawn from this weekend's United Airlines NYC Half but you can still learn about how his off-season is going.
Want a Better Running Shoe?
Beta Better Running Shoe Site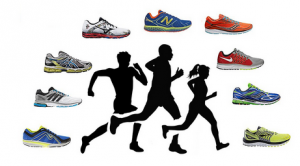 It's Time to Change How We Find Running Shoes