Pre-Nats Thomas Curtin Of Virginia Tech Upsets Cheserek, Colorado Men, Michigan Women Win Curtin opened up an early lead on the pack and they could not catch him as Erin Clark of Colorado won on the women's side. *Results

LRC Wisconsin adidas Invitational Recap: New Mexico Women (32 Points) Crush It; Wins For Syracuse Men (101 Points), Frosh Allie Ostrander (19:21 CR) And Marc Scott (23:35) We break down the biggest regular season meet of the year. Who flopped? Who surprised? We tell you.
MB: Official Live Wisconsin Invite Thread 2015 The New Mexico women have crushed it and we have a freshman winner, but not the one you think as Ryen Frazier was 38th. Syracuse wins the men's race as does Marc Scott of Tulsa.
How To Make A Dumb Decision At The Last Minute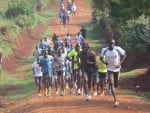 Athletics Kenya doesn't think there is enough time to recover from London to get ready for the Olympics, so they've announced they'll hold an Olympic Trials in mid-February, ignoring the fact that at least the last 8 World Champs all ran an April marathon and the fact that there is less time between now and the Trials than between London and the Olympics.
*MB: Athletics Kenya's decision yesterday to have a February marathon Olympic Trials is totally absurd.
De Grasse Not Going Pro?! Or Going Pro?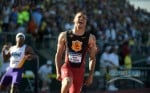 Andre De Grasse's Mom Denies Report He Is Going Pro Earlier we had the news that the Toronto Star reported that Canadian sprint star Andre De Grasse was going pro. Now his mother is denying the report and said De Grasse doesn't even have an agent. Further proof very little good has come out of Toronto this week. *Discuss
News From South Africa
2016 World Indoor News
News From Kenya
Elite Men's Distance News
LRC Toronto Results: 19-Year-Old World Junior Record Holder Shure Demisa And 24-Year-Old Kenyan Ishhimael Chemtan Win As Canadian Record Attempts Come Up Short Eric Gillis was 7th in 2:11:31 as Lanni Marchant missed her 2:28:00 Canadian record by 9 seconds.
Other Completed Action
RIP To An American Trailblazer Who Has Died Way Too Young
MB: RIP: 2013 World Championships marathon silver medallist – Marianne Dickerson of USA – has died at age 54 Dickerson became a national hero after outkicking a Soviet athlete for silver at the first-ever women's marathon global championship.
A Profile Of A Modern Day Female Trailblazer
A Look At The Life And Career Of Lornah Kiplagat The former World XC champion may be most famous for starting the high altitude training center in Eldoret. She now has her own Lornah Sports women's sports line – check it out here.
*MB: Is this photo of Lornah Kiplagat running next to a lion photoshopped?
Big And Important Calls For More Independent Drug Testing
Upcoming Action: Solinsky And German Hit The Road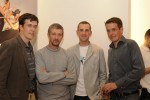 Is Ryan Hall this generation's Joan Benoit Samuelson? Chicago drops pacemakers, we remember Steve Jones's magical 1985 run, and great advice from legendary coach Joe Newton.
*MB: Ryan Hall=Joan Benoit Samuelson?
Big Paydays For Two US Steeplers

MB: Max King And Bridget Franek Win Warrior Dash 5k World Titles And $30,000 The Warrior Dash, a 5k obstacle race, is perfectly suited for steeplers, who are crazy enough to do it and fast and athletic enough to dominate it.
Monday – US Road 10k *Results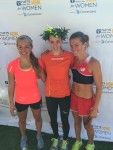 Huddle earned her fourth USATF Running Circuit victory in the last five weeks, adding the 10k crown to the 20k, 5k and 10-mile crowns she claimed earlier this year. Her training partner Emily Sisson celebrated her 24th birthday by taking second while 2014 USA track 10,000 champ Kim Conley was the third American (fourth overall). Plus the return to action for Joan Benoit Samuelson.
*MB: Molly Huddle does it again – She just dominated Tufts Health Plan 10k for Women – 31:21 FTW!
*RRW: Huddle Wins Tufts 10-K In Event Record 31:21