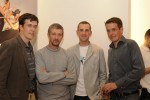 Is Ryan Hall this generation's Joan Benoit Samuelson? Chicago drops pacemakers, we remember Steve Jones's magical 1985 run, and great advice from legendary coach Joe Newton.
*MB: Ryan Hall=Joan Benoit Samuelson?
Elite Distance News: Sunday's Amsterdam Marathon Is Stacked

LRC: Dickson Chumba & Florence Kiplagat Win, Americans Luke Puskedra And Elkanah Kibet Impress, Deena Gets Masters Record (updated) A great day on the streets of Chicago as two non-rabbited races ended with exciting finishes. Dickson Chumba (2:09:25) and Florence Kiplagat (2:23:33) made it a Kenyan sweep as Americans Luke Puskedra, Elkanah Kibet, Deena Kastor and Sara Hall all cemented themselves as contenders for an Olympic spot come the Trials in February.
More Chicago News
Thursday


LRC What We Learned In Chicago On Thursday: Chicago Cares Deeply About What LetsRun Visitors Think, A Superstar Pulls Out, Joan Benoit's 30th Anniversary Run May Not Happen, And The Secret To Running A Marathon Every Year For Nearly 40 Years Get the inside scoop from the Windy City.