Monday Morning Doping Updates
IAAF Final Day Report: Cuba's Yorgelis Rodriguez Wins Pan Am Games Heptathlon Breaking The 16-Year-Old Meet Record NCAA champ Andre De Grasse lost the historic triple sprint crown (100, 200, 4 x 100) by a DQ. Canada initially won, but after a lane violation DQ, the gold went to Team USA. Canada's Derek Drouin won the HJ in 2.37m before attempting and failing to clear 2.41m. *Toronto Sun: "Disqualification shouldn't take shine of De Grasse"
David Torrence Gets 5,000m Silver At Pan Am Games; Mexico's Juan Luis Barrios Gets The Win Barrios ran 13:46.47 to beat Torrence by .13 seconds. Garrett Heath was a close 4th as Cam Levins was 5th. US's Cory McGee finished 4th in the women's 1,500, which was won by Colombia's Muriel Coneo.
*US Athlete Quotes From Torrence And Others
*MB: Cam Levins horrible tactics gets boxed and beaten by four scrubs in last 200
*MB: Rosa brothers, least Puerto Rican looking people ever, running for Puerto Rico
Marquise Goodwin Makes A Pro Track/NFL Career Work As The Buffalo Bills Wide Receiver Wins LJ Silver
Kanye West Gets Angry And Throws Microphone At Closing Ceremony Apparently there was a technical malfunction towards the end of his performance.
USATF Tops Pan Am Games Scoring Tables With 41 Medals The US came out with 403 "points" to Canada's 153.
*USA Won Overall Competition As Well With 265 Medals (103 Golds) Across All Sports Canada was second with 217 (78 golds).
Craig Leon (2:19:26) And Tim Young (2:19:34) Finish Fifth And Sixth For Team USA In Pan Am Marathon The race was won by Cuba's Richer Perez in 2:17:04.
*Quotes From Leon And Young Leon: "It's crazy. I was an average high school runner, a college walk-on, and I never would have thought that this was possible. It's a dream come true …"
*MB: PAN AM MARATHON: US BOMBS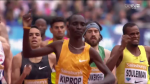 LRC What A Race: Asbel Kiprop Toys With Field, Centro Beats Souleiman For 2nd Kiprop went from first to last in the span of 50 meters halfway through the race but it didn't matter as he was back with the leaders with 300 to go and blew everyone away on the homestretch to get the win. Matthew Centrowitz ran well to finish second in 3:55.03, .03 ahead of Ayanleh Souleiman. (Includes Video)
On The Boards: What the f*** is Kiprop doing? *Kiprop: History's Fastest Running Comedian! *Blankenship ran like an animal in London!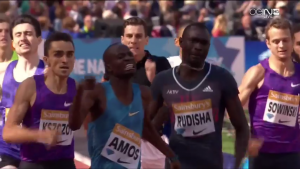 LRC Saturday Recap: Mercy Cherono Wins As Molly Huddle Almost Gets The Upset, Eunice Sum Stays Perfect And Nijel Amos Wins A Nail Biter With David Rudisha In the steeple, there was a fierce battle between Conseslus Kiopruto and Jarius Birech and in non-distance action, Renaud Lavillenie cleared 6 meters, Valerie Adams lost again and South Africa's Wayde van Niekerk blew the 400 field away. We recap it all here.
*MB: London Day 2 Thread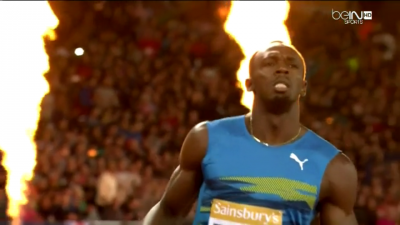 LRC Usain Bolt Is (Almost) Back, Wins 100 In 9.87 (Includes Video) Don't hand the gold medal to Justin Gatlin just yet. Usain Bolt put together his best showing of 2015 by far, running 9.87 into a headwind twice within the span of an hour to win at the Sainsbury's Anniversary Games.
*MB: Usain Bolt "Is Almost Back" – 9.87 Win Into Wind
*MB: UK sprinter Richard Kilty pushes referee after 100 Final DQ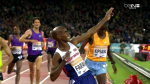 LRC Friday Recap: Mo Farah Dominates The 3,000, While Laura Weightman Gets A Surprise 1,500 Win To Thrill The Home Crowd It was no contest as Farah took the 3,000 in a world-leading 7:34.66 while Weightman held off US's Gabe Grunewald to get her first big international win.
*MB: Farah wins 3000m in 7:34.66
*MB: Mary Cain, going backwards again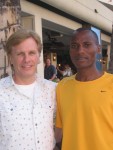 Long-time athlete manager Zane Branson, who shepherded the careers of marathoners Jimmy Muindi, Wilson Chebet and Patrick Makau among many others, died suddenly this morning in Iten, Kenya.
Assorted Admin/Political News