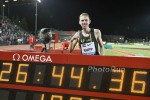 LRC Preview Of 2015 Friday's Distance Night: Can Mo Farah Run Fast In The 10k? Will Galen Rupp Be In Form After Disappointing Indoor Campaign? The action on Friday night should be riveting and we break it down for you. Plus an American has never won a DL 5,000 and we guarantee that streak will continue.
Pre-Talk On The Boards:
Outside Articles On Pre
The Legend Of Steve Prefontaine Continues To Grow – Steve Prefontaine Gets His Own Graphic Novel
LRC Book Review The Art Of Running By Matthew Crehan – A Graphic Novel Telling The Story Of Legendary US Distance Runner Steve Prefontaine Over the years, movies, books, T-Shirts – just about everything imaginable – have been made to tell the inspiring life story of Steve Prefontaine. But now for the first time, there is a comic book graphic novel that tells his story.
FBK Games Were Sunday In Hengelo *Full Results
Sifan Hassan Wins Women's 1,000 With The Fastest Time The World Has Seen In Six Years (2:34.68) Robert Biwott won the 1,500 in a world-leading 3:33.64 while Nixon Chepseba went through 800 in the lead, but died and ran 3:53 for 15th. Marcin Lewandoswki won the 800 in 1:45.46 and Irene Jelagat won the 3,000 (8:36.90) over GB's Laura Muir (8:38.47). Dafne Schippers set a Dutch record in the 100, winning in 10.94.
*19-Year-Old Diana Asher Smith Sets British 100m Record With 11.02 Seconds She was 2nd to Schippers.
Saturday IAAF World Challenges *Results: Ponce *Dakar
NCAA Division II And III Champs In The Books *Results: DII *DIII *NAIA
We Give You The Training Secrets Of One Of Our Sport's Great Champions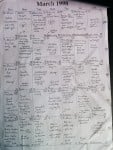 When we were in China for World XC, Sonia O'Sullivan handed us a copy of her training log from March of 1998 - the month she won World Cross-Country (twice). With no major meets this weekend, now is the perfect time to learn what it took for O'Sullivan - who still is the Irish record holder at at every distance from 1k through the half marathon thanks to her 2:34.66 for 1,000, 3:58.85 for 1,500, 4:17.25 for the mile, 5:25.36 for 2,000 (still the WR), 8:21.64 for 3,000, 9:19.56 for 2 miles, 14:41.02 for 5,000, 30:47.59 for 10,000, and 67:19 for 13.1 PRs - to be the best in the world.
The Search For A Better Running Shoe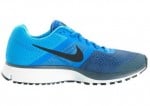 LRC The Most Popular Running Shoe On LetsRun.com Is … Not Made Anymore … The Nike Pegasus+ 30 Thousands of you filled out our detailed running shoe survey in the fall and more of you ran in the Nike Pegasus+30 than any other shoe. Only problem is all of you need to find a new shoe, help us out below: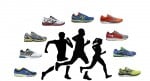 LRC The Improved LRC Running Shoe Survey Is Back – Three Minutes To A Better Running Shoe The running shoe buying process sucks and we want to improve it with data. We took your reviews from the fall, made a running shoe beta site, and have improved our survey to ask you what shoe your previously ran in. We now need more reviews from you on the latest shoes.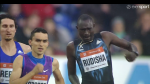 LRC David Rudisha Pulls Up Injured At 2015 IAAF World Challenge Meet In Ostrava, Usain Bolt Runs 20.13 In 200 Plus Asbel Kiprop in the 1k, Dejen G. in the 5k, Asafa Powell in the 100, and a new Kenyan national record in the javelin. Updated: Rudisha says it's not "a very serious injury" and he hopes to be back training within a few days.
*IAAF Recap: Sharika Nelvis Steals The Spotlight With A 12.55 100H Into A 1.7 m/s Wind
*Bolt: "You can't be satisfied if I don't bseak 20 Seconds." He said the cold/rainy conditions were partly to blame for the slower time.
NCAA Preliminary Rounds Start Tomorrow *Live Results / Schedule / Start Lists: *East *West
Ostrava Golden Spike Meet Is Tuesday
Big Upsets At Track Meet In Eldoret, Kenya
British Sprinting And Doping
Q & A With America's Revelation For 2015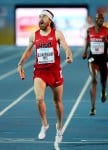 After he ran 3:35.48 for fourth in Shanghai on Sunday, we caught up with Blankenship, who discussed his race, the key to his 2015 success and his success and failure at hitchhiking.