Sainsbury Indoor Grand Prix: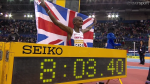 LRC Mo Farah Gets His First World Record, Runs 8:03.40 2-Mile (updated) The critics can shut up for quite some time now. Farah went 3:58 for his 2nd mile to get the WR.
*Farah: Vernon Row Got Me Going
Rest Of The Meet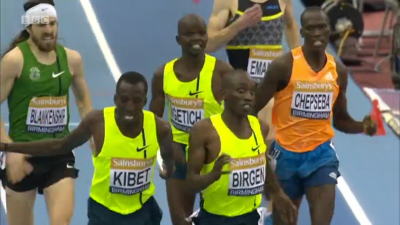 LRC
2015 Birmingham Recap: Matthew Centrowitz & Shannon Rowbury See Winning Streaks Come To An End
Some Americans did find success, however, as
Ben Blankenship
and
Jordan Hasay
PRed and
Erik Sowinski
almost did.
*
Katarina Johnson-Thompson Sets British LJ Record With 6.93m; Jenny Meadows Wins 800 In 2:01
Greg Rutherford
won the LJ in an indoor PR and WLing 8.17m.
*Full Meet Recaps:
Athletics Weekly
 & 
IAAF

Previous Farah / Vernon Controversy News
Week That Was
LRC
NCAA Sub-4 Mile Mania, Montana State > Oregon, Colorado Gets Its 2nd Sub-4 Miler (Ever), Florence Kiplagat Nearly Goes 1:04, Drones Film Races, And Break Up With Your Girlfriend To Run Faster …
We break down the last week in track and field and apply
Isaac Newton
's "What goes up must comes down" to running and take one final look at the
2015 NYRR Millrose Games
. We devote a lot of time to breaking down the
greatest day in sub-4 history
and discover that
 Georgetown
has 4 sub-4 guys this year,
Colorado
has had 2 (ever), but everyone should bow down to
Montana State
.
McFarland USA – HS XC Movie With Kevin Costner – Opens Today
Random, But Somewhat Interesting
Doping Stuff: Adrienne Herzog Gets 2 Years
 The World Marathon Majors Are Underway – Tokyo In The Books *Results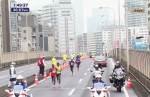 LRC Tokyo 2015: Negesse And Dibaba Get First Major Wins, Stephen Kiprotich = Hero In 2nd, Japanese Twitter Erupts, Lauren Kleppin Risks It All Ethiopians Endeshaw Negesse and Birhane Dibaba got the major marathon season underway with their first major wins as Stephen Kiprotich showed the Olympic spirit in second, Tariku Bekele bombed in his debut, Japanese twitter went nuts over the marathon, and Lauren Kleppin took a shot at greatness but bombed.
NOP And OTC Distance News
LRC Genzebe Dibaba Smashes Indoor 5,000 WR By Over 5 Seconds With 14:18.86 In Stockholm Dibaba now holds indoor WRs at 1,500, 3,000, 2 miles and 5,000 thanks to a stupendous performance, during which she hit 2 miles faster than Jenny Simpson's AR. *Video
*MB: Genzebe Dibaba Smashes 5000 WR – Runs 14:18.86!!
*IAAF Recap Sifan Hassan and Homiyu Tesfaye ran world-leading 1,500 times of 4:00.46 and 3:34:13; Qatar's Musaeb Balla ran a WL 1:45.13 and Qatari teen Abadalleleh Haroun ran 45.13; plus a 6.99 WL in the LJ.
IAAF Recap Of Russian Champs: Anzhelika Sidorova Clears World-Leading 4.76m Yelena Korobkina won the 3,000m (8:50.39) and 5,000 (15:47.09) but the times were modest in most events (2:02 in w800).
TMZ-Type News For A Former And Current Track Star
Could You Beat The Mars Rover In A Marathon?
A Boring Tuesday Got A Little More Interesting Thanks To Twitter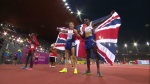 LRC Andy Vernon Calls Out Mo Farah On Twitter: "I would just rather watch a race than the Mo Show." Is Farah dodging the competition (again)? Vernon believes so and says the 2-mile field for this Saturday's Sainsbury's Indoor Grand Prix in Birmingham (of which he is not a part) isn't strong enough. Farah responded by saying, "Taylor Swift can probably run faster than you!"
*MB: Mo Farah and Andy Vernon go at it in Twitter
*AW Article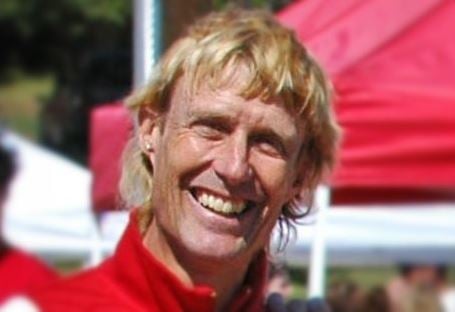 LRC Remembering LRCer Van Townsend The running world lost one of its bright lights this week with the death of Van Townsend.
*MB: RIP Van Townsend: Share Your Respects Here
News From Kenya: AK To Be Disbanded?