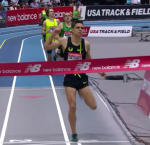 LRC Bernard Lagat Still Has It, Nick Willis Breaks The Kiwi Mile Record, And Matt Centrowitz Just Misses The American 1,000m Record Tremendous mid-d action led by the 40-year-old Lagat showing he still can kick (in a losing effort).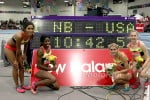 LRC Brenda Martinez Edges Nicole Tully In World Record DMR, An American Record For Jenny Simpson And Treniere Moser Impresses Again Brenda Martinez put back a superb challenge from Nicole Tully, Jenny Simpson got a much deserved American record, Treniere Moser, Mary Cain, Emma Coburn and more.
LRC Post-Race Video Interviews BMart after WR, Simpson, Nick Willis, Lagat, Centro, Mary Cain, Treniere Moser, Blankenship, Nicole Tully, Emma Coburn, Gebremeskel.
*High Schoolers Ryen Frazier (4:44) And Logan Wetzel (4:08) Win Junior Miles Jack Salisbury was a close 2nd in 4:08.76.
*Race Videos
*Official New Balance Indoor Grand Prix Live Thread
*RRW Recap *IAAF *AP
International Track Action
Bruce Jenner In Serious Car Crash, One Person Killed Jenner was at fault as he rear ended a car into oncoming traffic.
*Was Jenner Texting?
*MB: Bruce Jenner kills a woman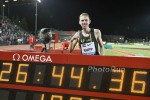 Galen Rupp has a virus and is cancelling the rest of his indoor season, including the 5,000 rematch vs. Cam Levins next week at Millrose.
T&F's New Kiwi Star?
LRC Q&A Zane Robertson Discusses His 59:47 Shocker, His 10,000 Plans And Why He Knew Hayle Lemi Was Going To Win Dubai LRC caught up with Robertson, who's got big plans for 2015, on Thursday morning after his spectacular half marathon debut in Japan.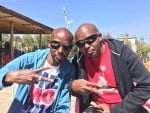 Zane Robertson and Ryan Hall are way more similar than you thought, Alberto Salazar is track's Bill Belichick, Will Claye is not Canadian but good for the sport, the Russians are really good at doping, plus the tweet of the week, fast races on a flat track and more.
LRC Wayback Machine: Interview From Ryan Hall Before His Senior Year Of High School He talks about doing 20 milers and 10-mile tempos.
Drugs: Sadly, Russian Kids Doping Doesn't Surprise Us
Next Weekend: Stacked Fields For Wanamaker Mile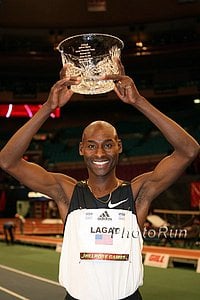 2015 Wanamaker Mile: Bernard Lagat Will Go For 9th Title Against Past Champions Will Leer And Matt Centrowitz; Mary Cain Will Defend Against Shannon Rowbury Lagat will also face Nick Willis, Leo Manzano, Edward Cheserek, Lawi Lalang and more. *Discuss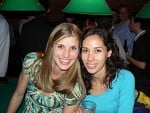 Steve and Sara Slattery are hosting the party and want runners, non-runners, and LRCers to be there.
The Year Of The Vault Continues
Looking Ahead To May: 2015 World Relays
---
Mutaz Essa Barshim Becomes 8th Man To Jump 2.40m In Banska Bystrica His outdoor PR is 2.43m.
---
Video Of The Week: Watch 38-Year-Old Kim Collins Run 6.48 WL From Last Weekend
---
Sub-2 Hour Project Holds Its 1st Meeting – Haile G/Jos Hermens Attend
News From Africa
Looking Ahead
London 2012 Olympic Park Updates