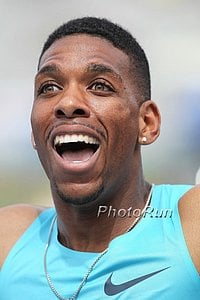 LRC Brandon Johnson Discusses His Injury-Plagued 2014, His New Coach Joaquim Cruz, And His Goals For 2015 Johnson was the talk of US track in 2013 but was nowhere to be seen in 2014 as a shift from 50 to 60 mpw to 80 to 90 mpw backfired. Before his season opener at the Camel City Elite Meet in Winston-Salem, N.C. on Saturday, Johnson talks about what it's like to room with Dathan Ritzenhein, his coaching change to an Olympic gold medalist and how his training has been going "awesome."
*MB: Is mileage overrated? Brandon Johnson ran 1:43 on 50-60 mpw, 1:46 on 80 to 90?
ATI: Galen Rupp Returns To Armory For First Time Since High School On Saturday
*Full ATI Elite Entries Team USA DMR has Erik Sowinski, Matt Centrowitz, Pat Casey and Mike Berry. Galen Rupp and Cam Levins are in mile and 2-mile. 800 has Ajee Wilson, Mary Cain and Laura Roesler. Abbey D'Agostino, Jordan Hasay, Treniere Moser and NCAA 5000 champ Marielle Hall in the 2-mile.
*MB: Armory Track Invite: USA Men's DMR WR Attempt, Wilson v Cain v Roesler @800, Rupp Double- 2 Mile WR Attempt Off
US Marathon Champs Are In March
LetsRun.com's 2014 Awards – We Need Your Vote
LRC Meb Or Galen? Vote For LetsRun.com's 2014 Award It's time to vote. Vote and tell us who are the male and female runners of the year for the World, US, and NCAA. Plus vote for the "best record-breaking performance," the "race of the year," the "moment of the year" and "unusual moment of the year."
Upcoming Action
Doping News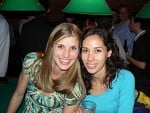 Steve and Sara Slattery are hosting the party and want runners, non-runners, and LRCers to be there.