US Distance News: Ryan Hall Now Coached By Jack Daniels
NCAA XC News: King Ches Speaks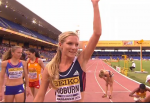 Emma Coburn outkicked Hiwot Ayalew for the first time ever at the Continental Cup as Jairus Birech outkicked Evan Jager in the steeplechase.
Discuss: Nice $30,000 Win for Emma Coburn to End Season!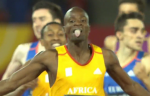 We recap all the other distance action.
Reaction To Oscar P Verdict
Will The Blade Runner Ever Compete Again?
Random: A Jetpack That Can Turn A 4:20 Miler Into A 4:00 Miler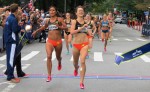 Women: RRW Jenny Simpson Holds Off Brenda Martinez To Become First-Ever 3-Time Champ It was a New Balance 1-2 in a race where the top 2 both broke 4:20. Mary Cain was just 10th. *Race Video
*Q&A With Jenny Simpson After Her Fifth Ave Mile Victory "Winning today solidified that I was able to keep the whole season together, be strong from the beginning to the end. …"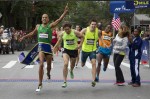 Men: RRW Jordan McNamara Edges Garrett Heath In Photo Finish At Line Heath and McNamara both ran 3:51.0 as 2012 champ Matthew Centrowitz was sixth. *Race Video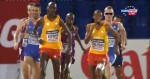 LRC Full Day 1 Recap: Souleiman Runs 50.09 Final Lap To Win 1,500m Over Kiprop, Eunice Sum And Ajee Wilson Entertain Again With a ton of $$$ on the line, the races meant a lot to everyone involved and the women's 800 and men's 1,500 did not disappoint. The men's 1,500 had the 3rd-fastest close-ever. Francena McCorory went sub-50 in the 400 and LaShawn Merritt got another win.  We recap all the events.
*Day 1 Race Videos & Highlights
*IAAF Day 1 Recap: Europe Leads After Day 1 After Hosts Africa Have Brief Moments In Spotlight
*IAAF: Event-By-Event Recaps
*Event-By-Event Predictions
MB: Official 2014 Continental Cup – Marrakech, Morocco 9/13-14 – Discussion Thread 
Women's Running In The News
Weekly Recap – The Week That Was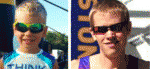 WTW Was The Great North Run Fixed? Chicago Is Loaded (Up Front) With Talent, Betsy Saina's Dream 2014, NCAA XC Gets Under Way And Proof That Indoor Track Is As Fast As Outdoor We ponder if Mo Farah's Great North Run win was fixed (with video), praise Betsy Saina's incredible 2014, get excited about the BofA Chicago Marathon, talk a little NCAA XC and Eric Jenkins, and ponder indoor vs. outdoor tracks in light of Galen Rupp's 1,500 in Brussels. 
Want a Better Running Shoe?
Beta Better Running Shoe Site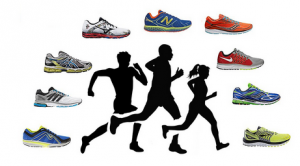 It's Time to Change How We Find Running Shoes