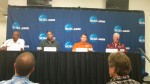 LRC 8 Takeaways from the Pre-Meet Press Conference at NCAAs The leading coaches tell you why the NCAA meet is special, Oregon's Robert Johnson tells you why the Ducks had to disappoint the Oregon faithful and not running super frosh Edward Cheserek much at home, and Pat Henry tries not to think too much about last year's 4 x 400: "You drop the ball in the end zone, you have to let it go and get back into the game."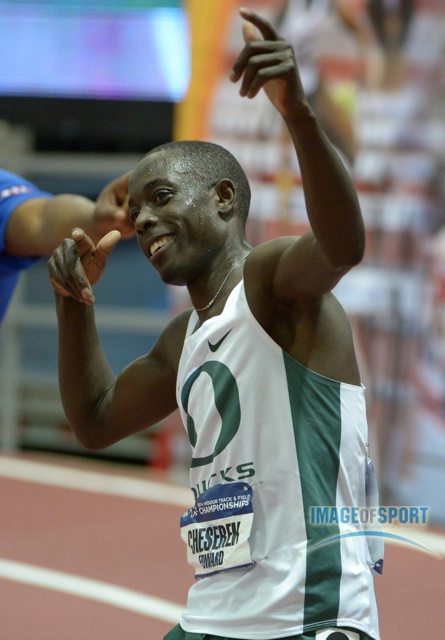 LRC Men's Long Distance Preview: Cheserek Aims For NCAA Titles #4 And #5; Can Seniors Kithuka And Lalang Stop Him? Edward Cheserek has never lost at an NCAA championship, but if the frosh phenom wants two more NCAA titles, he will have to take down two titans in Kennedy Kithuka and the fastest man in NCAA history, Lawi Lalang.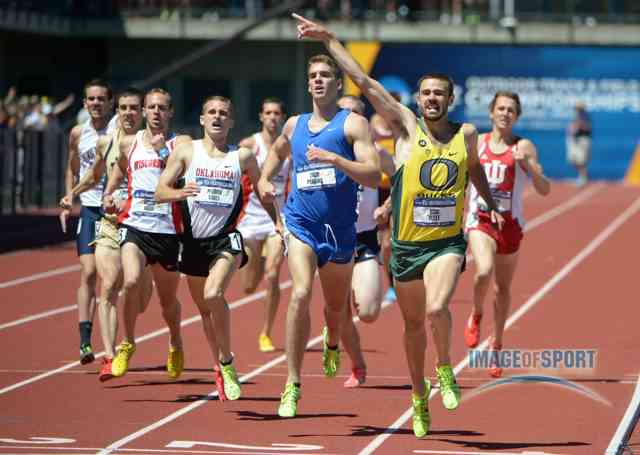 LRC Men's Mid-D/Steeple Preview: Mac Fleet And Anthony Rotich Look To Repeat; Indoor Champ Brandon McBride Favored In 800 Oregon's Mac Fleet is looking to become the first NCAA 1,500 repeat champ since Seneca Lassiter in 1998 but last year's 10,000 champ Lawi Lalang wants to end his storied NCAA career with yet a 1,500 crown. In the steeple and 800, Anthony Rotich and Brandon McBride want to continue winning.
*TFN's Final Men's Form Chart: Oregon 78, Florida 72
*Mac Fleet Eying 1,500 Repeat At NCAAs "I'm definitely not going out to get second or third."
Sunday Distance Action: Lagat And Brenda Martinez At FBK Games, Mo Aman Wins Again And Josh McDougal Races For First Time Since 2009
Kenya Names Its Commonwealth Games Team: No Kiprop Or Kiplagat
Jim Ryun Festival Of Miles *Results
Awesome: Eric Avila Finds Redemption And First Sub-4 Mile At Jim Ryun Festival Of Miles In SD What a race. Avila, the 2007 CA 3,200 champ, who went to NAU and failed out and started digging ditches, is back in a big way. He went from 4:07 to 3:56 in the mile (did have a 3:42 1,500 PR), just edging AJ Acosta in front of a raucous home-town crowd. Denna Kastor (5:02) was way off the Masters mark as Sarah Brown won in 4:33. *Video *Vine *Photos *MB: Eric Avila's return is complete!! Goes from 4:07 to 3:56 in front of Jim Ryun and Alan Webb and racuous crowd.
*RRW: Fun Evening, Fast Times At Jim Ryun Festival Of Miles
Avila Mania: Recommended Read: Awesome Profile Of Eric Avila's Resurrection From May: State Champ Was "Cocky" And It Cost Him "I was a cocky little turd. … I didn't approach things right. Let's just say I was an idiot."
*Eric Avila Is Now Thriving At Southern Oregon University
Archive: 2007: Is Avila The Best Prep Ever?
Another Good Read: Topeka Capital-Journal: Jim Ryun Relives Record-Setting Race Of 50 Years Ago
*Ryun's Predecessor Tom Sullivan Talks About Losing His HS Record "I am very privileged and honored to be able to say that Jim Ryun broke my record. I am more fortunate, however, to have been born four years before Jim Ryun."
Awesome Read: Track And Field News Recalls How 50 Years Ago Jim Ryun's Sub-4 Was Far From Being Huge Track News The 5k at the same meet, where Gerry Lindgren set his legendary 13:44 HS record, was called "the most significant race by American distance runners in history" by a TFN co-founder.
Nike Festival Of Miles In Missouri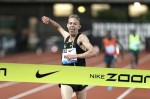 We first tell you WHY and then WHY NOT Galen Rupp will break Bernard Lagat's 12:53.60 AR in Oslo on Wednesday. What do you think?
MB: Totally Stacked 2014 DL 5k Oslo - Hagos, Dejen, Caleb and Galen - Will Rupp get the American Record? *Official Rupp DL Oslo 5k Prediction Thread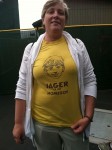 Could an American record and the first-ever win by an American in a steeple on the DL circuit be in store for Jager?
*MB: Jager in Bislett steeple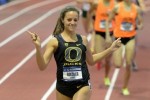 LRC Women's Mid-D/Steeple Preview: Laura Roesler & Shalaya Kipp Heavily Favored; Can Emily Lipari Finish Out Perfect 2014? Is there any way Roesler or Kipp lose or will they just totally dominate? Can Lipari stay hot in the 1,500? We break it down for you.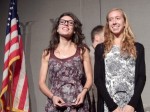 LRC Women's Long Distance Preview: Freshman Phenom Erin Finn Vs. 25-Year-Old Elinor Kirk In 10k; Can Abbey D'Agostino Close Out NCAA Career With Title #8? Senior Abbey D is the heavy favorite for NCAA title #8 in the 5,000, but who will win the wide-open 10k? Does super frosh Erin Finn have a chance? Or will veterans Emma Bates, Elinor Kirk or 2012 champ Juliet Bottorff come through?
*TFN's Final Women's Form Chart: Epic 3-Way Clash – Texas 70, Oregon 67, Texas A&M 66
*Oregon Has Been Waiting All Season For NCAA Outdoors Under Robert Johnson, the focus is on winning titles, not building Tracktown USA. Hard to believe, but the Ducks haven't won a men's outdoor title since 1984 and women's since 1985.
Josh McDougal On The Comeback Trail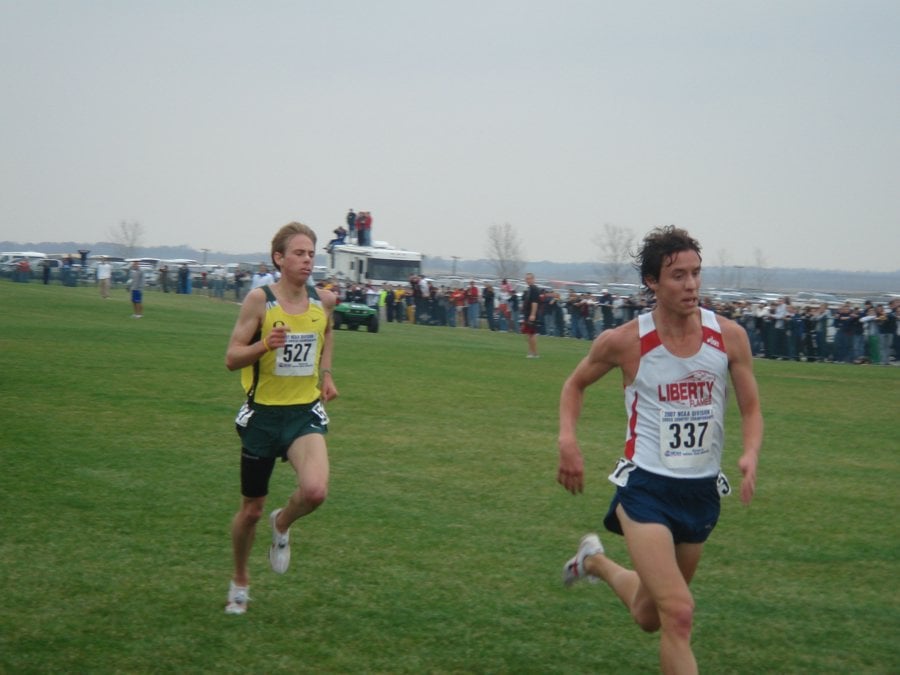 Recommended Read: Josh McDougal Blogs About His Comeback From 7 Years Of Injury, Which Got Going Sunday Night With A 4:10 Mile At The Music City Distance Carnival "… We felt there was no better way to start back than jumping in head first. Would it be pretty? … Probably not! But all new stories have to begin somewhere."
*MB: Josh McDougal comeback? Coach Steve Magness?

Sprint News: VCB 100 WL, 22.80 For HSer Whitney, Gatlin 10.05
Houston Leg Of American Track League Series Was Friday And Asafa Powell Almost Competed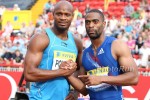 LRC Who Do You Think Is "Dirty"? Who Do You Think Is "Clean"? Male Track And Field Stars Doping Poll Results What 3 US-based stars have 50% more speculation than virtually everyone else?
*MB: LRC Male Stars "Clean" or "Dirty" Doping Poll Results
Updates From South Africa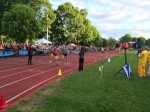 A vision, cause and nearly $20,000 from Hoka One One go a long way in attracting stars.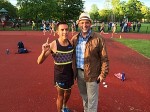 Talk about an upset. Eric Finan had a 4:04 PR coming in (including his converted 1,500 best) but chopped off 6 seconds and took down Manzano in the process. Plus Morgan Uceny came up just short of getting the outdoor world lead in the women's mile.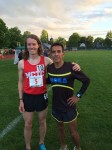 The Princeton-bound O'Toole, a LetsRun.com message board poster, ran 58 over the last lap to move into the top 15 all-time in the HS ranks and come close to sub-4 on the 50th anniversary of Jim Ryun's first sub-4. We caught up with him after the race.
*MB: HSer Garrett O'toole runs 4:01.89
Amos will look to repeat at Pre
Want a Better Running Shoe?
Beta Better Running Shoe Site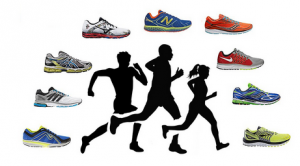 It's Time to Change How We Find Running Shoes