Memorial Day – 2013 Bolder Boulder *Results (link fixed)
Denver Post: Mamitu Daska Of Ethiopia Wins 4th Bolder Boulder Title In 6 Years, Shalane Flanagan 2nd, Kastor 4th – US Women 3rd
*A Wobbly Sarah Hall Finished 16th, Secured 3rd Place Team Finish For US "That is the hardest race I've ever run, by far. I really wanted to make them (Shalane and Deena) proud."
*Eritrea's Afewerki Berhane Wins Men's Rrace, Sean Quigley, Not Ryan Hall Or Bobby Curtis, Was Top American In 8th Quigley was on the US #3 team but was 8th and beat Hal,l who was 9th. *MB: Hall 9th at Bolder Boulder
*Meyer: Bolder Boulder Is A Special Race On A Special Day Ryan Hall: "Running into this stadium is as emotionally uplifting and energizing as going into the Olympic Stadium."
Good Read: Recently-Adopted Ethiopian Orphan, Abreham Anderson, Invited To Bolder Boulder Elite Press Conference To Hang With Ethiopian Pros The kid is in Jr. high and started at 7:20 in the mile and ended the season at 5:03. 2024, here we come.
Will We See Two More WRs From Dibaba?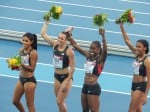 Great performances all around by the US team with 3 of the 4 legs running the fastest splits on the day. The USA is the best 4 x 800 country in the world.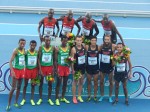 Kenya won and got the WR as expected but this one had way more drama than expected with Pat Casey handing off in first, David Torrence hanging with Silas Kiplagat and Leo Manzano making it real interesting (for bronze) on the anchor.
LRC David Torrence WOW One of the boldest runs we've seen by an American.
Sunday Distance Action Outside The Bahamas
NCAA Regionals Next Weekend
NCAA Preliminary Rounds Are Next Weekend
Other Upcoming Distance Action
Monday: Ryan Hall, Shalane Flanagan, Sara Hall And Deena Kastor Highlight Elite Field For Monday's Boulder Boulder 10K Kenya's two time defending champ Alan Kiprono and Ethiopia's three time winner Mamitu Daska lead the international fields. Other top US elites competing include Luke Puskesdra, Jeffrey Eggleston, Brent Vaughn, Bobby Curtis, Ben Bruce, Kellyn Johnson and Mattie Suver.
*Shalane Flanagan Says Boulder Boulder Has Been On Her "Bucket List" And She's "Just Looking For A Race, A Hard Effort" For a fall marathon as she's still choosing between Chicago, NYC and Berlin.
Next Weekend: Mary Cain Might Not Run Pre Classic 1,500 Because Alberto Salazar Doesn't Know If She's Ready To Race Against Abeba Aregawi And Jenny Simpson Cain hasn't raced since indoor and Salazar is assessing her fitness before he makes the call. He might put her in the 800 instead.
*MB: Mary Cain May Duck The Competition At Pre
More News From The World Relays
Sunday World Relays Photos (Click for Gallery)
Saturday Photos (Click For Gallery)
Saturday World Relays Talk
#USATFDoesItAgain & Lauren Fleshman Speaks Out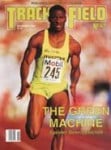 LRC
USATF Does It Again: Dennis Mitchell, Convicted Doper, Your Head Sprint Coach For World Relays
Eight years after USATF
 accidentally
 appointed convicted doper 
Dennis Mitchell
 (of the "
five bottles of beer and sex with his wife at least four times" excuse) to be a USA National Team coach, USATF has done it again, but this time for real with the full backing of the USATF national office. 
Lauren Fleshman Blasts USATF For Selecting Convicted Doper Dennis Mitchell As A Team USA World Relays Coach "It's like putting someone who has formerly served time for fraud in charge of your bank. Or a convicted child abuser in charge of your day care."
Fast Times At HS State Meets
Tyson Gay Drama Continues
Either Drummond is telling the truth or this lawsuit was absolutely idiotic. We're hoping for a full trial with discovery. That should clean up the sport. *Discuss
More World Relays Day 2 Coverage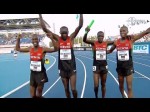 What a crazy anchor leg it was in the first final at the loud and raucous World Relays.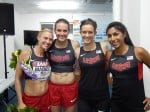 The Kenyans crushed the soft world record and the Americans overcame a violent fall for silver.
USADA Responds To Drummond
USADA Says The Lawsuit Filed By Jon Drummond Is "Baseless" A USADA spokesperson said, "Mr. Drummond's baseless lawsuit against the US Anti-Doping Agency is an effort to circumvent the mandatory arbitration process established to protect the rights of all clean athletes, coaches and the integrity of competition."
Want a Better Running Shoe?
Beta Better Running Shoe Site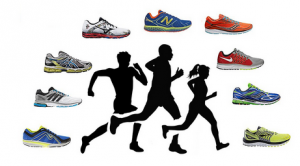 It's Time to Change How We Find Running Shoes