USATF and Nike announced a "groundbreaking" 23 year sponsorship deal today (USATF press release here), that Alan Abrahamson, one of the top Olympics journalists in the world, said is apparently worth $500 million (or roughly double per year what Nike pays now). The deal brings financial stability for a long time to USATF and takes Olympic sponsorship to a new level. Skeptics are wondering why so long a deal and at what cost?
Discuss: *USATF extends NIKE partnership to 2040
*So I guess the April Fool's Day story wasnt far off The poster is referring to this article. Our full April Fools homepage is here.
Jamaican Doping News: CAS Calls Anti-Doping Program "Deplorable"
Weekend Action Of Note That We Didn't Have Space For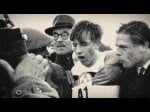 David Epstein, author of The Sports Gene, has struck up a relationship with the great Roger Bannister. Hear what Bannister has to say about genetics and running and back the new Bannister film: Bannister: Everest On The Track on Kickstarter.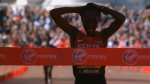 We dissect the women's London Marathon including the sprint finish, the bottle drop, and Dibaba's debut. Is Edna Kiplagat the new #1 in the World?
London Is In The Books – Now Look Forward To Boston
High School: Alexa Efraimson Misses 9:48 3,200 Record
Oscar P Gets Grilled On Stand – Game, Set, Match?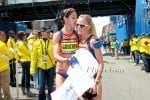 This week we tell you who had a good week: Shalane, Deena, Chanelle, Leo, Hawi, John Hayes, a 9.99 guy, and a few you haven't heard of, and who had a bad week: Oscar P and the sport of running. Plus some praise for Kim Collins, some free marathon training advice and a $3,000 challenge for Kara Goucher.
Oscar P Cross Examination Ends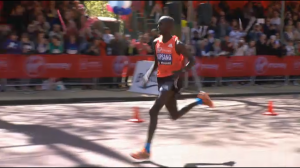 LRC Analysis: 7 Thoughts About The Men's Race – The Great Wilson Kipsang, The Awful Haile G, Kenenisa Bekele's Big Day And Props To Mo Farah? After recovering from some awful pacing by Haile G, world record holder Wilson Kipsang was truly special after 30km. He was the big winner today on the streets in London but it also was a great day for Kenenisa Bekele … and we think surprisingly in some way for Mo Farah as well. Plus is it time for London to get rid of rabbits? *Video Highlights
RRW American Ryan Vail Cracked The Top Ten And PRed But He Wants More: "I had to do a lot more leading than I was hoping."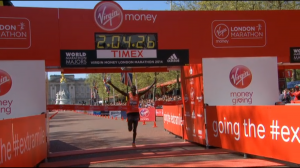 LRC Wilson Kipsang Wins 2014 London Marathon In New Course Record Of 2:04:29 – Mo Farah 8th In 2:08:21 American Ryan Vail had a good day and PRed to get 10th in 2:10:57. *Video Highlights
*RRW: Wilson Kipsang Wins His Second London Marathon, Sets New 2:04:29 Course Record
2014 Rotterdam/Non-London Road Results