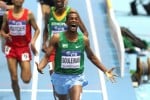 We tell you why Chanelle Price's gold medal was even rarer than you think, why running is definitely a young person's game, discuss what gets your DQed on the international level, ponder how Ashton Eaton isn't a cross-over star, look at the disappointing runs of Ajee' Wilson, Treniere Moser and Genze Bulut, and share with you two message board gems.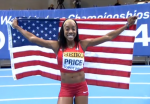 Chanelle Price took it out really hard and hung on to win gold at 800 at the World Indoors. Wire-to-wire, world-leading time for the win. Impressive. Updated with analysis, comments, video interview.
New: Video Interview With Chanelle And Race Video
On The Boards: *CHANELLE MFin PRICE!!!
*Official Chanelle Price Splash Page Request Thread
New Final Day Photo Gallery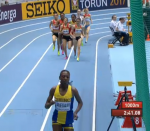 Abeba Aregawi went out and crushed the field. There have now been 3 2 DQs after the race. Moving Canada's Nicole Sifuentes to bronze and Treniere Moser to 4th 5th. (3rd DQ reversed on appeal).
On The Boards: Womens 1500m – 3 DQs – Sifuentes Bronze?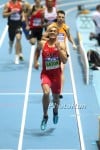 Eaton was ahead of WR pace going into the heptathlon 1000m, but came up a bit short and missed breaking his WR by 14-points. We decided to take this opportunity to talk distance running with Eaton and see what kind of a training a double-multi-event WR holder does.
For event-by-event composite Worlds coverage, use these links:
Men: 800, 1,500, 3,000
,
Sprints, Field Events
Women: 800, 1,500, 3,000, Sprints, Field Events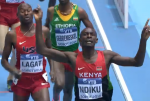 Bernard Lagat at age 39 had a tremendous kick on Sunday, but he met his match in a younger version of himself as Caleb Ndiku was too good the final lap. Galen Rupp was a very respectable 4th.
New: Post-Race Video With Lagat, Rupp, Gebremeskel And Cam Levins
 On The Boards: *Renato Canova Tell Us About Caleb Ndiku
*What was the message on Ndiku's shirt?
*I finally understood what Rupp is lacking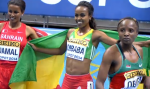 (updated) Genzebe Dibaba dominated to remain undefeated in 2014 (like Mary Cain), defending champ Hellen Obiri got silver, and the Americans weren't factors.
Non-Distance Worlds Results
USATF Controversy Still Garnering News
Some Weekend Reading Material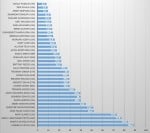 Without further ado, we present to you the results of our current female stars doping polls - from Molly Huddle (8.4%) to Carmelita Jeter (89.4%) and everyone else in between, who do the most sophisticated track and field fans think are "clean" and who do they think are "dirty." *Discuss The Poll Here
Pistorius' defense lawyer also produced cell phone records and said the security guard lied and that Pistorius actually called him first that night, not the other way around. The guard disagreed, but we don't understand how there is confusion if there are actual cell phone records available.
Get Psyched For NCAAs This Weekend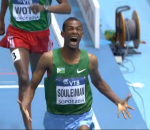 World, meet the newest mid-d star Ayanleh Souleiman. Souleiman controlled the race from start to finish, as Nick Willis came up just short of a medal, Will Leer was a non-factor and talked about a possible boycott of USAs. Recap, results, and video and a dance by Souleiman.
*MBoards: Souleiman 3:37.52 *Leer Ran Stupid
*LRC Post-Race Video With Souleiman, Willis, Leer
*DQ Cost Nick Willis $8,000
*Kenyan Papers Rip Birgen And Kiplagat: "Birgen scoops wooden spoon in Sopot." That means last place.
*"Kiplagat's habit of choking at the big stage continued."