#Thankyoujordan. (We Still Need To Get To The Bottom Of How This Could Happen In The First Place)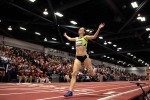 USATF CEO Max Siegel spoke to the parties involved and Jordan Hasay did the right thing and withdrew her protest, meaning Gabe Grunewald could not be DQed and is your USA 3,000m champion. The fight is not over, however, as fans and athletes need to stay on top of this issue to address its root causes. Siegel said that while he is "looking forward and will address our processes to try to minimize the potential for controversy or misunderstanding in the future" that in this case, "they followed the process laid out in our competition rules." Scary thought if true, with no transparency on the part of USATF.
*Discuss Here
RRW: Emily Lipari, Sabrina Southerland Set Meet Records To Cap Off Big East Championships Villanova swept the men's and women's team titles over Georgetown. Women's highlights: Southerland won the 800 in 2:04.85, Lipari the 1,000 in 2:43.69, Emily Sisson in the 5,000 (16:08.01) over Laura Nagel (16:08.34), 3,000 won by Nagel (9:07). Men's: Josh Lampron won the 1,000 in 2:22.66, Ahmed Bile the 800 (1:50.85).
*Georgetown Women Set DMR Big East Meet Record On Day 1 Of Big East Championships – Villanova Leads Men And Women Team Competition
*Results
USTFCCCA Weekend NCAA Highlights: Jumper/Thrower Andre Dorsey And Distance Runner Emily Lipari Are Athletes Of The Week Lipari helped Villanova beat Georgetown at Big East Champs by 2 points by winning the 1,000 and running a leg on the winning 4 x 800 and runner-up DMR. Dorsey won the LJ, TJ, HJ and SP at the Atlantic Sun Championships leading Kennesaw State to the team title.
Full Results From 2014 Notre Dame Alex Wilson Invitatioal Women's Highlights: Amanda Eccleston wins mile (4:36), Emma Bates in the 3,000 (9:11.98). Men: Blair Henderson in the 800 (1:49.37), De'Sean Turner in the mile over Andrew Poore (3:58.27 to 3:59.98), Andrew Colley in the 3K (7:58). Indiana ran 9:27.72 to beat Arkansas (9:29.37) and Notre Dame (9:29.91) in the DMR as the top 11 teams were 9:33 or faster.
Tokyo – A World Major – Is In The Books *Full Tokyo Coverage
Dickson Chumba (2:05:42) And Tirfi Tsegaye (2:22:23) Set Tokyo Marathon CRs As Five Japanese Men Break 2:10 The race was fantastic as both the men's and women's races were decided after 40k.
*MB: 2014 Tokyo Thread
Asian XC Champs: Non-Asian Born Runners Dominate Asian Cross-Country Champs They took the top 5 spots in the men's race and four in the women's.
2014 USA Cross-Country Photo Gallery