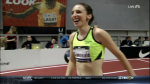 By now, you've heard bits and pieces about what happened on Saturday but we tell you the inside story of what really went down, plus reveal that the Fat Lady hasn't sung yet as an arbitration hearing will take place later this week.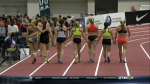 Cain's 61 last lap solidified her as the bronze medal favorite for Worlds as her 4:07 time was the best of her life if you adjust for altitude (4:01).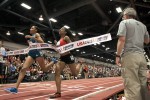 Price really put it out there and led for 790 meters as the two Americans with little fanfare moved to #1 and #2 on the 2014 World list.
W3k: LRC Gabe Grunewald Blows Away The Field Over The Last Lap & Wins Her First US National Championship – Or Does She? –  On the track, there was no doubt who was the best over the final 200 – cancer survivor Gabe Grunewald – as Shannon Rowbury got 2nd. But Alberto Salazar has filed a protest to get Jordan Hasay on the Worlds team and much of the sport is up in arms as this case is going to arbitration. We believe filing the protest was ridiculous – akin to getting blitzed by 10 in the fourth quarter of a B-Ball game and then complaining about a foul at the start of the 4th.
*Decide For Yourself: LRC Race Video Of Alleged Foul
*Sara Vaughn Speaks On Indoor Championships Athlete Atmosphere, 3,000m Controversy Vaughn: "I don't know if I would call it intimidation, but there's definitely hesitation [to speak out]. You have to think how stirring things up might you affect you getting into a future race or a future sponsorship deal."  

LRC Women's 800 Prelims: Wilson, Beckwith And Price Go Wire-To-Wire The big three looked great here setting up what should be a hard-fought final on Sunday. If you missed our preview, it's here.
MB Chatter:
3 Great Reads With Past And Present Stars
Explosive Interview With Former Mile Indoor Record Holder Eamonn Coghlan

Start Your Day With Some Track History
Best Rabbit Of All Time? Haile G Will Pace London Marathon
2014 USA Cross-Country Photo Gallery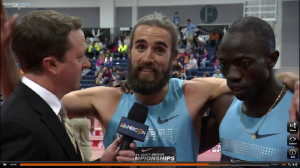 LRC Men's 1,500: Lopez Lomong Doubles Back From The 3,000 To Get The Win In A Stacked 1,500 Lomong ran a very well-executed race to get the win over a great field. Will Leer used his "Wanamaker Mile finish" to grab second and almost run down Lomong.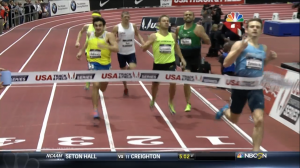 LRC Men's 800: Erik Sowinski Dominates As Robby Andrews Grabs Second But Nick Symmonds Is Going To Poland Sowinski was the clear winner as Andrews just nipped Symmonds for second. However, Andrews doesn't have the 1:47.00 World qualifying time, so Symmonds will go to Worlds.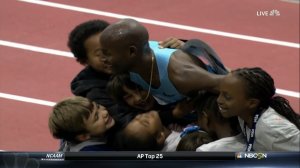 LRC Men's 3,000: Bernard Lagat Proves Age Is Just A Number As He Puts On A Clinic For Galen Rupp And Ryan Hill In The Last Lap To Win In Albuquerque What was probably the most anticipated race of the meet did not disappoint as it came down to a 3-way battle at the end with Lagat blowing everyone away and Rupp grabbing the last Worlds spot over Hill. As good as Lagat was, the post-race battle between two the two star Nike coaches may have been even more riveting.
*LRC Men's 3K Interviews: The Genius Behind Bernard Lagat's Tactics, Galen Rupp Talks About Being In 3rd With A Lap To Go And Andrew Bumbalough Explains The Hot Early Pace
LRC Nike Coaches Alberto Salazar And Jerry Schumacher Have Heated Exchange, Have To Be Separated After Men's 3,000 At 2014 USA Indoors The two Nike coaches' frosty relationship hit a new high (or low) on Saturday.
Run Blog Run: Eyewitness Account Of Salazar Trying To Go After Schumacher: "It was like a volcano that was just building up to erupt, and we saw the complete eruption and the meltdown." Three-time Olympian Lee Troop saw the whole thing unfold and says Salazar was way out of line: "To be perfectly honest, it was just bad for the sport, the way the whole thing was conducted. It looked poor; it was bad; I think a lot of people are going to be walking away with a really bad taste in their mouth. It's just not right on so many levels."
*MB: Post-Race Day 1 USA Indoor Drama: Nike Coaches Alberto Salazar And Jerry Schumacher Have To Be Physically Restrained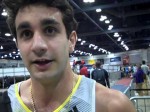 LRC Men's 800 Prelims: Favorites Get Through To Set Up Mouth-Watering Final With Symmonds, Rutt, Andrew, Mulder, Wieczorek, Sowinski In case you missed out, our 800 event preview is here.
Message Board Chatter:
Tokyo – A World Major – Is In The Books *Full Tokyo Coverage
Dickson Chumba (2:05:42) And Tirfi Tsegaye (2:22:23) Set Tokyo Marathon CRs As Five Japanese Men Break 2:10 The race was fantastic as both the men's and women's races were decided after 40k.
*MB: 2014 Tokyo Thread
Asian XC Champs: Non-Asian Born Runners Dominate Asian Cross-Country Champs They took the top 5 spots in the men's race and four in the women's.
NCAA Conference Champs Start This Weekend *All NCAA Coverage
Gasparilla Is Back!!!
More Good Reads From The US
US Distance / Sponsor News
Tracksters Dominated 1st Day Of Women's Bobsled

Other Olympics / Winter-Related News
World Indoors Are In 2.5 Weeks
International Distance News
African Bureaucracy At Its Finest
Non-Distance News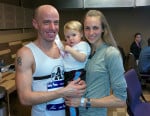 Webb, the American mile record holder, talks about his career after running one last mile in the place where he first broke 4:00.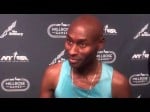 The men's mid-d and distance action was pretty spectacular at the 2014 NYRR Millrose Games. We tell you all about it. Here's an intro – imagine breaking a 33-year-old American record and finishing 5th.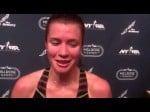 Mary Cain won the mile, Ajee' Wilson the 800 and Kim Conley the 3,000.
The Moment You've All Been Waiting For: The Results For Our "Dirty" Or "Clean" Doping Polls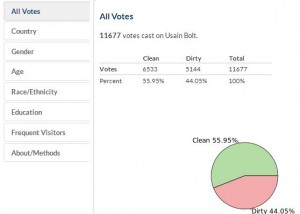 LRC World Record Holders "Dirty" Or "Clean" Doping Poll Results Without further ado, we present to you the results of our world record doping poll. LRC The "Dirty" Or "Clean" Doping Polls: Why Did We Do Them? Many of you get it. You voted and gave us some very interesting demographic data. We think you'll find the data very interesting. Some of you don't get it and have said so. Here we address some of your concerns.
*Blogger Reflects On LetsRun's "Clean Or Dirty Polls" And Says It Has Helped Promote Belief In A Clean Sport He writes, "The most surprising aspect of the data to me was the percentage of voters who thought that athletes were clean. … This data is surprising because I thought that as a community we were more cynical than the numbers show."
*MB: LetsRun "Clean or Dirty" Poll Discussion Thread
*MB: Wait a minute! Over 40% of letsrun visitors DON'T think El G was doped up?
Want a Better Running Shoe?
Beta Better Running Shoe Site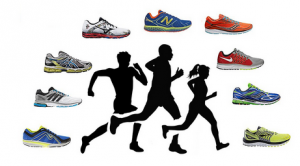 It's Time to Change How We Find Running Shoes