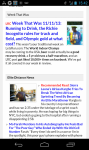 We're proud to reveal today a new refined version of LRC. It's still the same site you know and love, but with a cleaner design and lots of new features. Click here to read about the changes and give your feedback.
4th World Doping Conference
Previous Doping News: Jamaica, Kenya And More
Get Your Votes In! Regionals Are Friday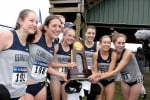 Regionals are Friday and it's time to tell us who is going to the Big Dance in Terre Haute. Are Oklahoma State and Arizona still #1 or have Colorado and Providence moved up? Give us the top ten in the country and/or in each region.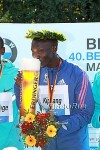 This wasn't your traditional week on LetsRun.com: The World Indoor Champs may be coming to the USA, beer could actually be a good recovery drink, a 5 yr old runs a half-marathon, and an LRC post got liked 10,000+ times on facebook. We've got it all covered in our week in review.
Before he started college, Ward went to watch his brother run Foot Locker and hopped in the parents'/fans' race. He won the race and got docked a full year of eligibility due to some ridiculous NCAA rule. Meanwhile, Johnn Manziel is still eligible.
.US Road Champs Are Sunday In Old Towne
Say Goodbye To The A & The B: IAAF Championships Will Now Have One Qualifying Standard
The Sensation That Is Sweeping The Country And Possibly The Most Read Article In
LRC

History