News From Jamaica
Competitor Group Gives Up On Competition
Competitor CEO Defends Decision To Drop All Elite Athlete Support - "We're a health and lifestyle company." For years, LRC wondered if it was going to be a problem that a hedge fund owned most of the biggest races in the US and now our nightmare is a reality.
Tony Reavis Has Excellent Insight On CGI's Decision To Cancel Elite Athlete Program In case you were gone over the weekend, Competitor Group (the private equity owned group that owns the Rock N Roll Marathons, the Muddy Buddy Runs, and puts on the NFL Run Series) decided to effective immediately cancel its elite athlete program and not honoring appearance fees for upcoming races. A business decision that could impact the future of the sport of running. Reavis, with long ties to the Rock N Roll series, talks about why this was done with such haste (remember kids, if you want to know why something is done, follow the dollars). Sad day for the sport of running if this doesn't hurt CGI's bottom line.

Competitor Group Says Goodbye to the Sport of Running Competitor Group (Rock N Roll Races, Muddy Buddy, NFLRunSeries) Eliminates Any And All Support Of Elite Athlete Fields, Including Appearance Fees, Travel And Lodging updated They are owned by a private equity group and they say it's better for businesses not to spend money having pro fields and keeping the money for themselves. We understand the logic and no race has to have a pro field. What's ridiculous is that elite athletes for the Philly Half Marathon on September 15th will not have their appearance fees honored. The only way to fight back is by not running ANY of their events and using your influence to encourage your friends not to run any of their events: all the Rock N Roll Races, all the NFLRunSeries Events, Muddy Buddy events and more. If enough people care about the sport and inspiring a future generation of runners and Competitor thinks it will help their bottom line then they will re-institute the program. We're all for private enterprise, however the Competitor Group is a private equity group that profits to a large extent because of public resources. It relies not only on volunteers and the government shutting down roads, but on millions of dollars (more here, here, here) of government tax dollars going directly to Competitor Group. We believe with such dollars comes some obligation to inspire a future generation of runners by supporting the (top end of the) sport of running just a little. Vote with your feet. *Original RunBlogRun Story
Discuss: *Competitor drops support for elite athletes immediately
*I support Competitor group's decision to withdraw support for Elite Athletes
*Competitor ditching the elites is a blessing in disguise b/c I'm sick of watching our runners get paid to "race"
Saturday Action
Negative News
Interesting Reads
News From Japan
Random Action/News
Berlin: 53,000 Spectators In Berlin As Women's Javelin, Men's Discus Highlight Berlin
*Valerie Adams Ends Season In Berlin With 42nd-Straight Win
*Berlin ISTAF Results World Champion Mo Aman won the 800 over Duane Solomon. Dayron Robles with a win.

Padua, Italy Recap: Dylan Armstrong Throws Far, LaShawn And Aries Merritt Both Win Andrew Wheating was 4th in the 800m in 1:47.33, Erik Sowinski was 3rd in 1:47.31. Emily Infeld 2nd in 1,500.
*Results
On The Boards: Wheating Making Progress It's up for debate.

Tuesday: Zagreb Preview IAAF David Oliver takes on his fellow medalists from Worlds, local hero Sandra Perkovic in the discus, Ryan Whiting and Dylan Armstrong in shot, great women's hurdles matchup with all the London medalists.

Friday: Bolt Running 100m In Brussels
Kenyan Athletics May Finally See Some Change
IAAF Full Meet Recap: Defar And Bondarenko Dazzle In Zurich Bondarenko hushed the crowd and then made 1 WR attempt.
*Athletics Weekly Full Meet Recap
*Usain Bolt Comes From Behind To Win In 9.90 As All 9 Guys Finish Within .17 Of Each Other
*Jamaica Gleaner: Ugly 100m Win For Bolt

In Case You Missed It: Sprint Race Videos (distance links in articles and here): *Men's 100m: Bolt Vs.Gatlin *Men's 110m Hurdles: David Oliver Vs. Stacked Field *Men's 400m: LaShawn Merritt Vs. Kirani James For $50,000 *Women's 200m


LRC M 8: The Nick Symmonds Train Keeps Rolling Nick Symmonds got the win in a nice 1:43.56 as he ran aggressively from the start. Duane Solomon was 4th as Brandon Johnson struggled. *800m Race Video
MB: SYMMONDS 1:43.56 FTW in Zurich, out in 50.52.


LRC W 8: Eunice Sum Is 100% For Real - She Beats Savinova Again After A Thrilling Stretch Run Savinova and Sum were side-by-side for basically the entire last 100, but in the end Sum emerged $50,000 richer. Caster Semenya and the Americans, Ajee Wilson and Alysia Montaño, were non-factors. *Race Video
*Capital FM: Awe-Sum Eunice adds Diamond sparkle
MB: Eunice Sum dissed!
MB: Caster Semenya has gotten HUGE!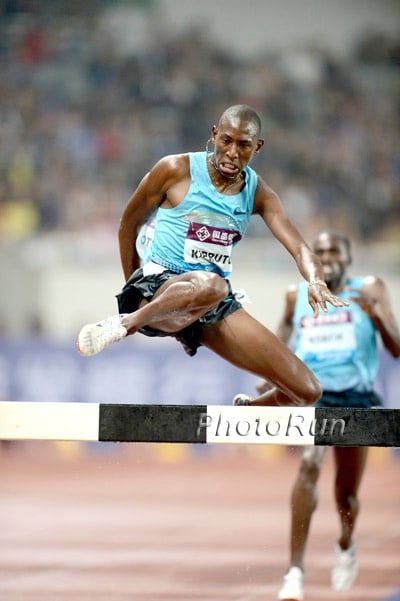 LRC M Steeple: Hillary Yego Wins As Conseslus Kipruto Manages To Hang On To DL Title The big names struggled here, making Evan Jager's decision not to steeple look a little bit wiser.

More Coverage From Outside LRC: Shelly-Ann Fraser-Pryce Won Zurich 200 And Overall Diamond League Title
*Usain Bolt Backs Adam Gemili To Become A "Great" Sprinter As Long As He Isn't Pressured Too Much
*After Only Finishing 6th In Moscow, GB's Shara Proctor Wins Zurich LJ And Overall DL Title, Beating All Threw World Medalists
*Gemili (10.06) Bemoans His "Rubbish" 100m In Zurich Bolt told Gemili to enjoy the big meets more and and not get nervous.
*List Of US Performances From Zurich: 4 Americans Win
Marathon / Road News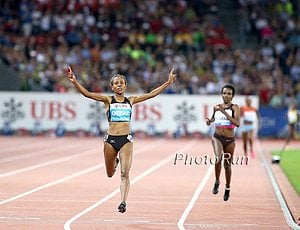 Distance Stuff
Random News
Do As I Say, Not As I Do: Ben Johnson Starts Anti-Doping Campaign *Pure Sport Website
Random But Cool: LRC Video Of Olympic Champ Felix Sanchez Racing A Bike In The 400 Hurdles At Monday's Gugl Games

MB: Awesome video: Félix Sánchez races 400 hurdles against a guy hurdling on his bike - how come now DQ?