Saturday Action
DecaNations: Nick Symmonds Keeps Winning, USA Wins, As Does Alysia Montano 1:49 and 2:00 for Symmonds and Montano as you see what happens when there are no rabbits.
*DecaNations Results

Amsterdam: Susan Kuijken Sets Dutch Record At 2,000m At Flame Games translate.google.com She beat Zoe Buckman among others. Ben True, Miles Batty, Ryan Hill in 1,500. Kerron Clement won the 400 in 46.70. Caster Semenya 2:04 and Phoebe Wright 2:04.
Flame Game Results

Lille Half Marathon Results
Negative (Doping) News
Competitor Group Is Officially A Joke Competitor Group (Rock N Roll Races, Muddy Buddy, NFLRunSeries) Eliminates Any And All Support Of Elite Athlete Fields, Including Appearance Fees, Travel And Lodging updated They are owned by a private equity group and they say it's better for businesses not to waste money having pro fields (apparently $475,000) and keeping the money for themselves. What's ridiculous is that elite athletes for the Philly Half Marathon on September 15th will not have their appearance fees honored nor their travel. We're all for private enterprise, but the Competitor Group is a private equity group that profits at the public's expense. It relies not only on VOLUNTEERS and the government shutting down roads, but on millions of dollars (more here, here, here) of government tax dollars going directly to Competitor Group. We believe with such dollars comes some obligation to inspire a future generation of runners by supporting the (top end of the) sport just a little. The only way to fight back is by not running ANY of their events and using your influence to encourage your friends not to run any of their events: all the Rock N Roll Races, all the NFLRunSeries Events, Muddy Buddy events and more. For a group like Competitor, $500,000 is a drop in the bucket. If this will hurt their bottom line they will change course. Vote with your feet. *Original RunBlogRun Story
Discuss: *Competitor drops support for elite athletes immediately
*I support Competitor group's decision to withdraw support for Elite Athletes
*Competitor ditching the elites is a blessing in disguise b/c I'm sick of watching our runners get paid to "race"
Conspiracy Or Just Neurotic? President Of The Athletic Federation Of Nigeria Claims Blessing Okagbare Was The Victim Of "Russian Politics" At Worlds Claims that the Russians altered the schedule purposely to give their athlete the advantage in the LJ because they knew Okagbare was tripling 100-200-LJ. He even said that if she was American, it never would have happened.
Not Kidding Anyone: NBA Star David Lee Says NBA Drug Testing Is "Very Thorough" And That No One Tests Positive Because Players Are Simply Staying Clean Meanwhile, players know that they're only tested 4 times a year and after the 4th test they can do whatever they want without fear of testing.
NY Times Ethicist Makes An Interesting, Yet Flawed, Case Against The Use Of PEDs In Sports He feels that "there are no sound moral arguments against P.E.D.s," but there are "ethical" ones, so while there are no "logical" reason PEDs should be illegal, athletes shouldn't use them because it's the rules.
Former USATF Head Doug Logan Continues To Argue That PEDs Should Be Legalized And Claims WADA Is Nowhere Close To Delivering A Drug-Free Sport Logan: "We should face facts over this drug issue. It is a war we are unable and unwilling to fight and that we have already lost. We selectively prosecute a token few while the majority of users get off scot free."
Share With A Less Informed Friend Who Didn't Watch Live: Watch Zurich Races Without Knowing The Results


LRC W 5k: Defar Outkicks Dibaba For $50,000; Simpson PRs Meseret Defar threw down a 58-second last lap to outkick Tirunesh Dibaba and take home $50,000 in 14:32. The side race between Molly Huddle and Jenny Simpson was a bit of a let-down, although Simpson walked away with a PR as both Americans went sub-15:00. Chelsea Reilly also came away with a PR and Jordan Hasay struggled and got lapped. *Video Highlights
MB: DEFAR last lap 58 sec --> 14'06" potential !!!
MB: Zurich women's 5000m thread: Jenny, Huddle, Hasay on now
MB: Why the heck is Jordan Hasay still racing?
MB: Jenny MF Simpson 14:56


LRC M 1,500: Silas Kiplagat Reminds Us He's Very Good As Kiprop, Centrowitz, Manzano Struggle When races are rabbitted on the circuit, normally Asbel Kiprop or Silas Kiplagat get the win and that certainly was the case tonight, which wasn't a good one for Leo, Centro or World Champ Asbel Kiprop. *Race Video
MB: Centro- Did he follow Kip @ Zurich, to better learn his Gold rival?
MB: Ingebrigtsen the Great Nordic Hope
MB: Centro- Did he follow Kip @ Zurich, to better learn his Gold rival?
MB: Centro? Legend in his own mind?

2013 Weltklasse Live Discussion On The Boards:
MB: Official 2013 Weltklasse Zürich Discussion Thread
MB: Zurich 5,000m - Defar or Dibaba, who wins?
MB: Universal Sports is now LIVE on TWC (HD)!

Valerie Adams' World-Leading Indoor PR (20.98) Wins 2013 DL Title For Her The shot put was held a day early in the train station.
*Adams' Victory Was Her 41st Straight Win
*Shot Put Results
Running Science
Pre-Zurich:

LRC Jenny Simpson's Coach Mark Wetmore: "It's not a record attempt by any means. Just get in the race and respond to what's presented to her." LRC talked to coach Wetmore about the Zürich 5,000m, the Brussels 1,500m, 2014, Jenny's future in the steeplechase and whether Wetmore is actually surprised Simpson is a 1,500m runner.
Depressing (Mostly Doping) News
2013 Worlds Special Section


Sunday / Monday Action
Marathon / Road News
US News
Random, But Potentially Interesting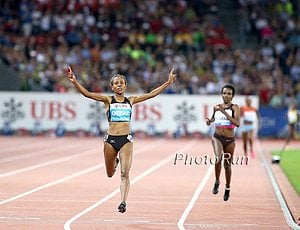 Distance Stuff
Random News
Do As I Say, Not As I Do: Ben Johnson Starts Anti-Doping Campaign *Pure Sport Website
Random But Cool: LRC Video Of Olympic Champ Felix Sanchez Racing A Bike In The 400 Hurdles At Monday's Gugl Games

MB: Awesome video: Félix Sánchez races 400 hurdles against a guy hurdling on his bike - how come now DQ?
Kenyan News
LRC Jenny's Medal Shines The Brightest, Ajee Surprises, Dejen And Genzebe Flop, The US Is Better Than Ever - 15 Thoughts Looking Back At The 2013 IAAF World Champs Now that we've had some time to recover and think about it, we take a look at the back and hand out awards for the 14th World Championships in Athletics. Read to find out who is our Best US Performer, our Biggest Flop (male and female), Biggest Surprise (US and international), our Comeback Athlete, Classiest Post-Race Interview, Biggest Bonehead, and a whole lot more. Along the way, we wonder why Ezekiel Kemboi wasn't disciplined, praise the US for its best performance ever and even praise Molly Huddle and Shannon Rowbury for allegedly packing it in early in the 5,000.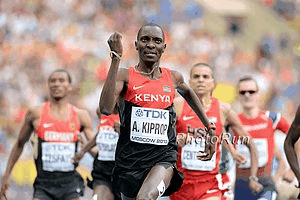 Assorted International News