Diamond League Finale #1 - Weltklasse Zürich - Is Thursday and Should Be Special *Start Lists/ Viewing Info (2-4 pm ET)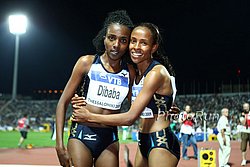 Track And Field Fans Rejoice
LRC An Incredible Women's 5000m: Dibaba Vs. Defar For $50,000 (And Simpson Vs. Huddle For AR) The matchup track and field fans have been waiting for all year is actually going to take place Thursday in Zürich: World 5,000m champion Meseret Defar vs. Tirunesh Dibaba. In 2006, Defar upset Dibaba and cost her $125,000. This year the $40,000 DL event bonus is on the line. Also in the race is American World Champ silver medallist Jenny Simpson and American record holder Molly Huddle. Will Huddle's AR go down?


LRC Jenny Simpson's Coach Mark Wetmore: "It's not a record attempt by any means. Just get in the race and respond to what's presented to her." LRC talked to coach Wetmore about the Zürich 5,000m, the Brussels 1,500m, 2014, Jenny's future in the steeplechase and whether Wetmore is actually surprised Simpson is a 1,500m runner.