Monday: Linz, Austria Action: Bernard Lagat Over Will Leer In 3k, Andrew Wheating 2nd In 1k Wheating ran 2:18.36 but lost to Ireland's 1:45 man Paul Robinson.
MB: Wheating's back, back again! Wheating's back, tell a friend!
MB: Linz 1000m? What happened?
*Aries Merritt Beats Dayron Robles In 110H, Justin Gatlin Beats Ashmeade In 100m Sally Pearson won the women's 100H.
*Gatlin Says His Legs Were Tired
*Watch A Replay Of Monday's Linz Meet At 2:15pm ET On Tuesday
A Slow Weekend In Terms Of Action
Interesting Odds & Ends
US News
2013 Worlds Special Section


World Championships Review
LRC 15 Thoughts Looking Back At The 2013 IAAF World Championships In Athletics Now that we've had some time to recover and think about it, we take a look at the back and hand out awards for the 14th World Championships in Athletics. Read to find out who is our Best US Performer, our Biggest Flop (male and female), Biggest Surprise (US and international), our Comeback Athlete, Classiest Post Race Interview, Biggest Bonehead, and a whole lot more. Along the way, we wonder why Ezekiel Kemboi wasn't disciplined, praise the US for its best performance ever and even praise Molly Huddle and Shannon Rowbury for allegedly packing it in early in the 5,000.
Random, But Potentially Interesting
Administrative News
Doping News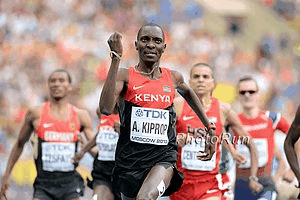 Assorted International News
Michael Johnson Says Usain Bolt Is The Best Track Athlete "That's Ever Been" Johnson doesn't think we'll see any more WRs from Bolt, though, at this point in his career.