Drug Talk
Recent Results
Science Of The Sport
US News: Economics Of US Pros And NCAA Division 4?
Random International
More From The Weekend
Matt Elliot Gets World Championships 1,500 "B" Standard With 3:36.88 For 2nd Place In Germany He is now the official alternate (a viewer has written pointing out USATF rules said the "B" standard had to be hit by July 20th, even though IAAF rules say it can be up to the 29th) as he ran his time on the 19th and can compete if Matt Centrowitz, Leo Manzano or Lopez Lomong withdraw from the team.
Masato Imai Wins Hot Suffolkland Shibetsu Half Marathon In 1:03:24; Yuki Kawauchi Was 22nd In 1:06:45 Kawauchi wasn't happy today as he "blew it" in this workout. His final pre-Moscow "tune-up" will be a 30k this Sunday. Defending champion Mai Ito won the women's race in 1:12:27.
Russian Champs: Natalya Aristarkhova Wins Steeple In 9:34; Rinas Akhmadiyev Wins 5,000 In 13:49.73 Even though no one in Russia has the "A" or "B" standard in the men's 5,000, they will still get to send someone as the host nation gets to enter someone in every event.
*Yelena Isinbayeva Feeling Good After Making PV Final
Tesfaye Alemayehu Wins His 4th Straight Napa-To-Sonoma Wine Country Half Marathon In 1:04:10 Former 1,500 Olympian for Canada, Malindi Elmore, won the women's race.
US Sweeps NACAC Mountain Running Championships: Joe Gray And Morgan Arritola Win Overall Titles Magdalena Boulet was 3rd in the women's race; Zachary Ornelas, Max King and Glenn Randall went 2-4 for US men. *Results *RW Article
Tyson Gay's Training Partner Jason Smyth Equaled His Own WR Of 21.05 Winning The 200 At IPC World Champs
Random US
Sunday Is The Sabbath Action
Kenyans Getting Ready For Moscow
Random
Who's Going To Moscow? No Tara Erdmann; Caster Semenya Unlikely
Science Of The Sport
Other Drug News: 4th Jamaican Named Doping
News From The US
More Doping Updates: Powell Loses Sponsor
International News: Vote For Haile
Asafa Powell And Jamaicans Test Positive
Other International News
Previous Jamaican Doping News
2 Reviews & 1 Book Excerpt From John McDonnell: The Most Successful NCAA Coach In History
LRC Preview: American Fans Are Going To Like This One - Cain, Hasay, Huddle, Rowbury, Uceny, Rupp, Centro, Ritz, Symmonds, Solomon, Etc. This meet is watered down by international standards as many of the top Africans are on the sidelines but American fans will have plenty to pay attention to here.

More:
Friday: Former World Half Marathon Champ Wilson Kipsang Highlights Field For 101st Edition Of Giro Podistico di Castelbuono In Italy, One Of The Oldest Road Races In Europe 59:53 half runner Paul Lonyagata and 2:05:46 marathoner Dickson Chumba are in the field as is Italy's European XC champ Andrea Lalli.
More Pre-Moscow 2013 News
Looking Way Ahead:
*Sweden's 200 World Youth Champion Irene Ekelund To Compete In 100 At Stockholm DL Meet August 22nd
*2011 World Silver Medalist Vincent Kipruto And 2009 Race Winner Gilbert Kirwa Announced For This Year's Frankfurt Marathon 2011 Boston Marathon champ Caroline Kilel announced for the women.

Pre-Moscow 2013 News
Previous London Anniversary Games News
Other GB News
Top International News: Rudisha's Season Is Over
Doping News
Sprint News
Good Read: Meet Scotland's And Glasgow University's Laura Muir, Who Has Gone From 2:07.3 To 2:00.8 In One Year And Is Now Going To Moscow Before her switch to new coach Andy Young, she used to wonder how she'd ever compete at Commonwealths.
Let The Countdowns Begin:
IAAF Full Meet Recap Brigetta Barrett, Renaud Lavillenie, Montsho, Kiprop, Edwin Soi and Vesely all got world leaders.


1,500: LRC Asbel Kiprop Runs 3:27.72, Mo Farah Takes Down Steve Cram's British Record
What an unbelievable race. Asbel Kiprop's magic in Monaco continued with a 3:27.72 PR win and then in 3:28.81 was none other than Mo Farah. Bye-bye Steve Cram's British record. Farah, the Olympic 10k gold medallist is now the sixth-fastest 1,500 man ever. The vaunted American contingent was a non-factor in this one, but up front was so hot, it was hard to be a factor.
*Video Interviews With Mo Farah, Asbel Kiprop and Nick Symmonds


LRC: USA Women DESTROY Monaco 1,500! World Champion Jenny Simpson got the big win in her final race before Worlds, new 800m star Brenda Martinez nearly made it an American 1-2 after barely getting into the meet in the first place, and Shannon Rowbury and Gabriele Anderson ran 4:01 for 4th and 5th. US Champ Treniere Moser struggled in last, but the American women are back in the 1,500!
*Martinez #10 All-Time U.S. At 1,500M


800: LRC Duane Solomon Comes Through As The Favorite - Picks Up First Diamond League Victory The 2013 world #1 did his normal thing - get out fast, and in the end he BARELY hung on for his first DL victory.


5,000: LRC Four Men Break 13:00 But Americans Lagat And Rupp Struggle The guys up front were on WR pace early and that group included Lawi Lalang, who is now the fastest man in collegiate history, but not Galen Rupp or Bernard Lagat. Last time Lalang raced, he beat Kenenisa Bekele. Now he takes down Galen Rupp, proving this MBoarder is correct for a day: Lawi Lalang Is Better Than Galen Rupp.

MB: Shalaya Kipp gets the job done - 9:37 in Monaco Updated with post-race interview from Kipp. Milcah Chemos won in 9:14.
More Monaco
*Justin Gatlin Wins 100 In 9.94; Brigetta Barrett Won The HJ In 2.01 Over Anna Chicherova And Blanka Vlasic And Queen Harisson Took The 100H As Sally Pearson Was Back In 5th
*List Of US Performances: Women's US 4 X 100 Teams Go 1-2; Octavious Freeman, Allyson Felix, English Gardner And Carmelita Jeter Set MR Christian Taylor won the TJ.*AP Monaco Recap: Mo Farah Breaks European 1,500 Record And Steve Cram's 28-Year-Old UK Record
*Defending 400 Hurdles World Champ Dai Greene Was Forced To Pull Out Of Monaco With Achilles Injury
*Ivory Coast's Murielle Ahoure Wins 200 In 22.24 As Shelly-Ann Fraser-Pryce Takes 3rd
*Amantle Monsho Wins 400 In 49.33 As Jamaica's Stephanie McPherson Gets A PR In 2nd With 49.92
*Capital FM: Asbel! 3:27.72! How's that for a PB!

Monaco On The Boards:
*Monaco live updates-Official Thread
*2013 Monaco: Holy mother of God: Asbel Kiprop 3:27.72, Mo Farah sets British record at 3:28.81
*Farah 3:28.81 6th fastest 1500 runner of all time
*Shoutout to Symmonds for running 3:34
*A thought about Mo & Galen's new found speed
*Duane Wins 800: first American >= 800m with a win since...
*Soi 12.51! Galen Rupp failed to break 13:00 as this race went out super, super fast. Maybe 6:20 low at halfway. Looks like this guy was correct:
U.S. 5000m Runners Have NO CHANCE of Breaking 13 in Monaco
*Watch out for Albert Rop in Monaco
*How did Andy Bayer make it into Monaco 5000 DL over Hassan Mead or Bumbi???
*Breaking news: Farah's 3:28 bodes well for Rupp's 5,000?
*What does AlSal have to do to become GOAT coach. Is he GOAT already?
*How does Matthew Centrowitz feel being beaten by Mohamed Farah?
Random International
Pre-Monaco News
LRC Catching Up With The Olympic 1,500 Silver Medallist Leo Manzano In MonacoWe sat down with Manzano this morning at his hotel in Monaco. Still sponsorsless, Manzano seems to be in a great frame of mind and is very much looking forward to racing tomorrow.
MB: Carmelita Jeter Walks Out of Monaco Press Conference after Doping Question *1-Minute Video Here With Decent Sound Of Her Walking Out

LRC Mo Farah Talks Speed Before 2013 Herculis 1,500m After a double deck bus tour of Monaco with Mo was cancelled due to a storm, Mo was forced to do a normal presser. Farah: "I used to believe I could never beat the Kenyans until I trained with them."

More Pre-Meet News:
European News
Recommended Read: Ken Goe: Track And Field A Sport Of Haves And Have-Nots Goe takes a look at the state of the sport, saying, "For every Allyson Felix or Galen Rupp, who make a comfortable living from track and field, there are dozens of athletes living on the margins, near poverty or in debt, or bankrolled by relatives. Olympic dream? This is more like a nightmare."
Sad RIP News
US News
David Epstein For SI: Tyson Gay Linked To Atlanta Anti-Aging Specialist Clayton Gibson Gibson admits to working with Gay, but was not specific with what treatments he received. Asked if he uses anything that could lead to a positive drug test, Gibson said, "what I have is all food-based products and herbals as well as homeopathic products ... [nothing] synthetic," but didn't seem to deny that some products could contain testoU-T San Diego: Tyson Gay Tests Positive, And Our Faithy-Usain-Bolt-drugs/?#article-copy">U-T San Diego: Tyson Gay Tests Positive, And Our Faith Some interesting stats such as now 8 of the 10 men who have gone sub-9.80 have been linked to doping. Also, Victor Conte (the man behind BALCO) once said he didn't think any man could run faster than 9.92 seconds without doping.
Mike Rodgers Says He Can Sympathize With Tyson Gay As Two Years Ago Rodgers Was Kicked Of The World Champs Team For Testing Positive For A Stimulant Which He Said Came From An Energy Drink Ironically, with Gay out of Moscow, Rodgers will go, as he was 4th at the Trials.
Who Will Actually Be In Moscow?: David Rudisha And Yohan Blake Both Withdraw
UK Names Its Team For Moscow 2013
Previous Tyson Gay Drug News
adidas Moves Swiftly And Dumps Tyson Gay - Gay Continues To Accept Responsibility: "I know exactly what went on, but I can't discuss it right now ... I hope I am able to run again, but I will take whatever punishment I get like a man."

The Independent: "The Life-And-Death Fight Against Drugs Has Always Been Sport's Phoney War" UK writer "looks at athletics' history with drug scandals in the wake of a dark week that yet again tarnishes the sport."

Ato Boldon Says Supplements And Stimulants Should Be Legalized "Everyone is already on it. It's a question of who's getting away with it and who isn't."
Previous Tyson Gay / Asafa Powell News
Tyson Gay And Now Asafa Powell And Five Jamaicans Test Positive Even if this ends up just being a positive for a stimulant that warrants a 3-month suspension, Gay's positive (and also now Powell's) is a huge blow to the sport. Gay: "I don't have a sabotage story. I don't have any lies. I don't have anything to say to make this seem like it was a mistake or it was on USADA's hands, someone playing games ... I basically put my trust in someone and I was let down."
LRC: Do You Know Who Let Gay Down? We Want To Know
MB: Makes you wonder, Who is the person that Gay trusted?

More Coverage: *AP On Gay *NY Times On Gay *Powell/Simpson Article *Powell's Statement Saying He's Not A Cheater
Columnists/Analysis:
*New Yorker: TYSON GAY AND HOW TO CLEAN UP TRACK This is a Recommended Read as it contrasts how Gay and Powell have handled it - Gay has admitted it, Powell has claimed ignorance (plus it gives props to LRC).
*Science Of Sport: A House Of Cards? Sprinting Tumbles Down As Gay, Then Powell, Then Simpson, Carter Named As Failing Drug Controls
*Alan Abrahmson: Track's Dirty Day
*Hersh: Doping Issues Killing Track And Field Again
*USA Today: Track Experts Say Fight Against Doping Can't Be Won

More: Powell's Trainer Arrested In Italy
*Reuters: Positives Deliver Body Blow To Troubled Sport From widespread doping in Turkey to widespread doping in sprinting, it's been quite a week on the anti-doping front.
*A Look Back At The Sprinting Dopers Over The Last 25 Years A better to ask would be who hasn't doped, as it's basically like the Tour de France.
*Jamaica's Women's Discus Champ "Shocked" By Positive Test As Well
*Powell Says He's Not A Cheat
*Drug Crisis After Gay And Powell Test Positive
*Full Statements From Jamacians Powell & Simpson

MB: LRC Thread Predicted Positive at 6pm Saturday night that a major US sprinter would test positive Clearly our Thread of the Month. And people wonder why we allow anonymous posting.
MB: TYSON GAY FAILS TEST
MB: Confirmed: Tyson Gay admits positive test, out of worlds. "I put my trust in someone."
*Powell busted for OXILOFRINE a stimulant
*Makes you wonder, Who is the person that Gay trusted?
*Powell busted for OXILOFRINE a stimulant
*Asafa's Statement
*Describe Your Reaction to the Tyson Gay Tests Postive News in One Word
*Admit it, we are all now waiting to see if Bolt is positve....
Interesting: Opinion Piece Analyzing Haile Gebreselassie's Upcoming Entry Into Ethiopian Politics In 2015
US News: 2013 Will Be The Last Year The NYC Marathon Is Sponsored By ING The bank has sponsored the race for the last 10 years.
*Jenny Simpson Named USATF Athlete Of The Week For Her 1500 Win At The Monaco DL Meet
Week In Review - The Week That Was
LRC Is Something Wrong With Galen Rupp? Mo Farah, Lawi Lalang And Jenny Simpson Impress, And A Royal Kiss During Leo Manzano's Race This week we struggle to put Mo Farah's amazing 1,500 run into perspective for you before moving on to see if Jenny Simpson might repeat as world champion. Along the way, we get caught up in the Prince and Princess mania that is sweeping the globe. We exclusively show you that Leo Manzano was running so bad in Monaco, that Prince Albert and Princess Charlene started to make out before his race was even over. We also come to realization that every race that Galen Rupp has run so far in 2013 has been worse than the same race he ran last year. Is something wrong?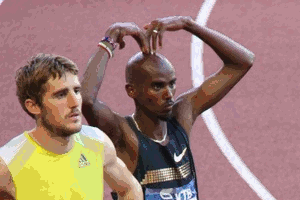 Gone Over The Weekend? Monaco: Kiprop 3:27!!!, Farah!? 3:28. More Monaco Race Videos Here, Look To Your Left For LRC Recaps / Interviews
Jenny Simpson 4:00.48 Win In Monaco, Brenda Martinez 4:00.94 For 3rd! (Recap Here, More Monaco Race Videos Here)
Doping Talk Is Still Dominating The Headlines Worldwide
Week In Review
LRC Gay And Powell Test Positive: Leroy Burrell The Fastest Of All Time?, Brandon Johnson Keeps Rolling, Ben True, Hassan Mead And More We take a look at Tyson Gay and Asafa Powell testing positive, give some props to some good performances on the track and much more.
Mid-Week Results: Americans Distance Action In Europe; Caster Semenya's 2013 Debut, Badwater